Breaking News
For the latest breaking news, see below. We'll share breaking news stories as we have them so you're kept up to date at all times.
Updated 2 weeks ago
OLYMPIA — Gov. Jay Inslee ordered Washington residents to stay in their homes for the next two weeks in response...
Updated 1 week, 5 days ago
ADAMS COUNTY - There are now three confirmed cases of the novel coronavirus in Adams County, with two new cases reported Thursday.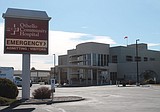 Updated 2 weeks, 2 days ago
OTHELLO — Adams County has its first confirmed coronavirus case, according to a press release issued Saturday by the Adams County Health Department.
---