County to open mental health crisis treatment center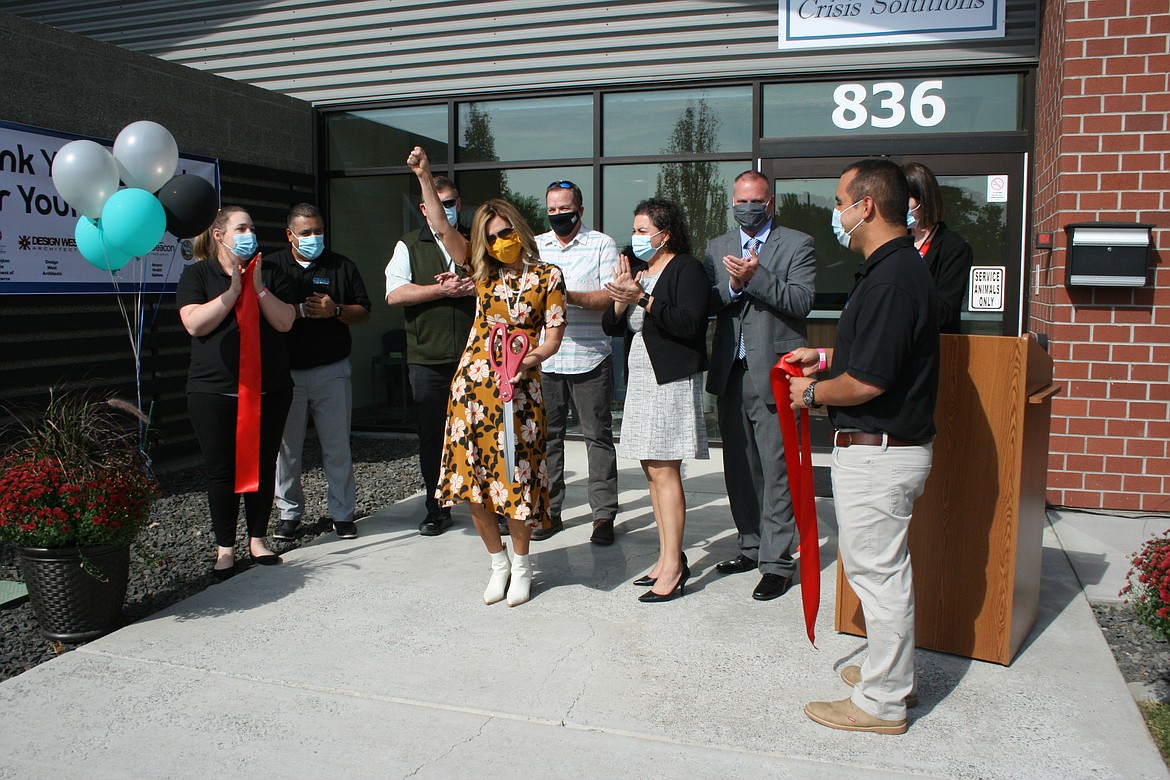 Grant County Commissioner Cindy Carter celebrates the opening of the new Crisis Solutions Center. Applauding with her are (from left) crisis center manager Traci Hunt, Grant Integrated Services quality manager Mike Lopez, Grant County Commissioners Richard Stevens and Tom Taylor, GIS chief financial officer Veronica Perez, GIS executive director Dell Anderson and crisis center supervisor Anselmo Quezada. The facility will provide short-term treatment for people facing a mental health crisis.
Cheryl Schweizer/Columbia Basin Herald
by
CHERYL SCHWEIZER
Staff Writer
|
September 24, 2020 1:00 AM
MOSES LAKE — Grant County will be opening a treatment center for patients suffering from a mental health crisis in the next few weeks. The Crisis Solutions Center was introduced to the public in an open house Tuesday.
The crisis center is administered by Grant Integrated Services. It's located next to GIS at 836 East Plum St., Moses Lake.
Integrated services director Dell Anderson said the facility is still working on its certification. He expected permission to start accepting patients "shortly," he said.
Grant County Commissioner Cindy Carter cut the ribbon, joined by fellow commissioners Richard Stevens and Tom Taylor, among others. "I am really excited that this is happening today," she said. The 10-bed center will be open to all Grant County residents.
Anderson said the crisis center will provide inpatient treatment for patients for up to 14 days. "This is something this county hasn't had before," Anderson said.
Previously people in crisis had to seek treatment outside Grant County, Anderson said, and sometimes had to wait for a place to become available.
One of the goals at GIS is to provide local treatment options, Anderson said, and to provide short-term treatment that may allow patients to avoid hospitalization altogether. The new facility will help reach those goals.
County officials will be working with Samaritan Healthcare to help provide services, Anderson said. Inpatients will be housed at the Plum Street building.
The inpatients will receive mental health assessments and treatment designed to address the immediate crisis, as well as offering options for longer-term care. Inpatients also receive physical health evaluations.
In addition to the inpatient care, the facility will house the GIS mobile crisis team, Anderson said, and related services.
Remodeling costs were not immediately available. Previously the facility had housed an adult residential home, Anderson said, which closed about three years ago.
---