Othello livestock sale goes on in 'weird' year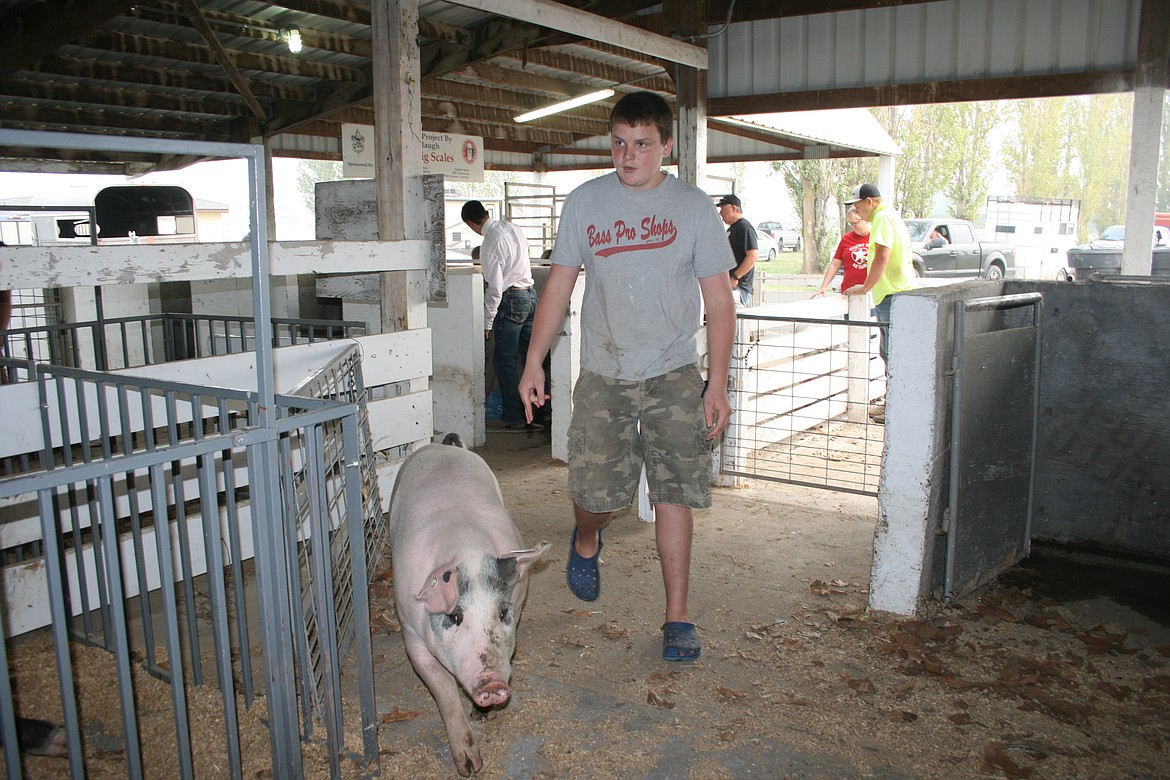 John Cranston leads his pig to its pen at the Othello Fairgrounds Friday. Kids had the chance to sell animals they had raised for the fair in a livestock sale held Saturday.
Cheryl Schweizer/Sun Tribune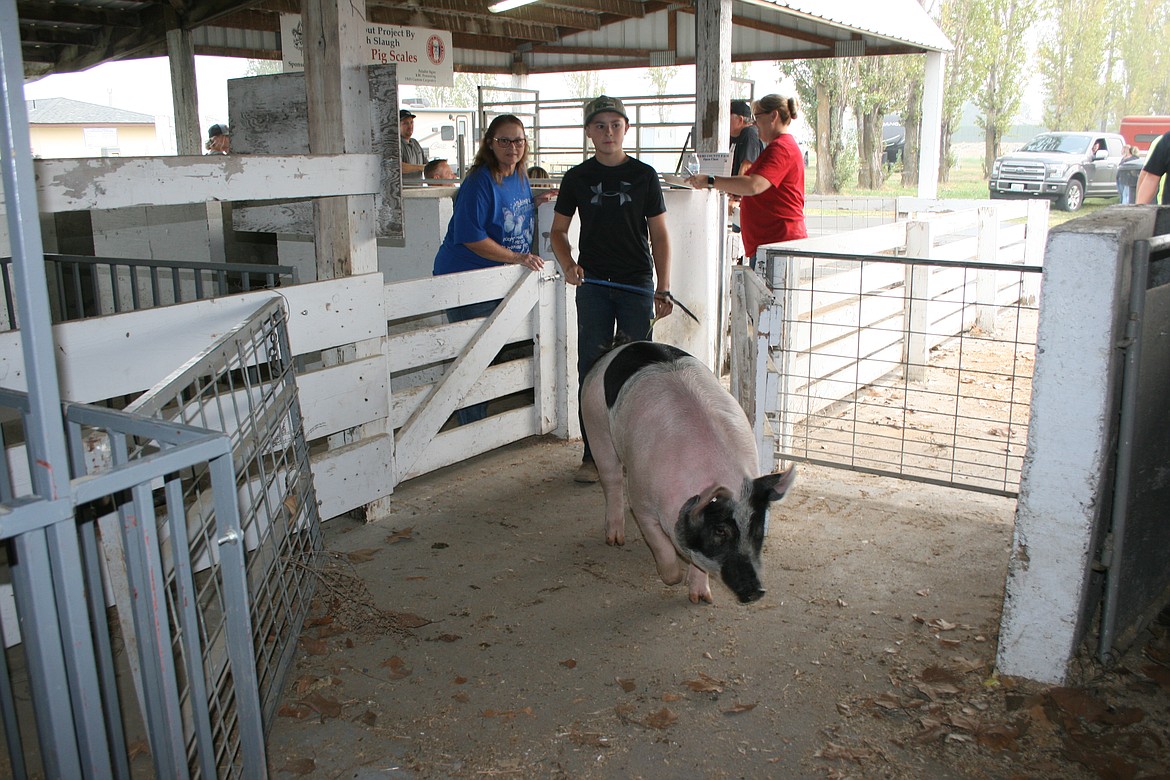 Cyrus Gibbons conducts his pig to its pen at the Othello Fairgrounds. The Othello Fair was canceled, but the livestock committee sponsored a sale for exhibitors who had raised animals they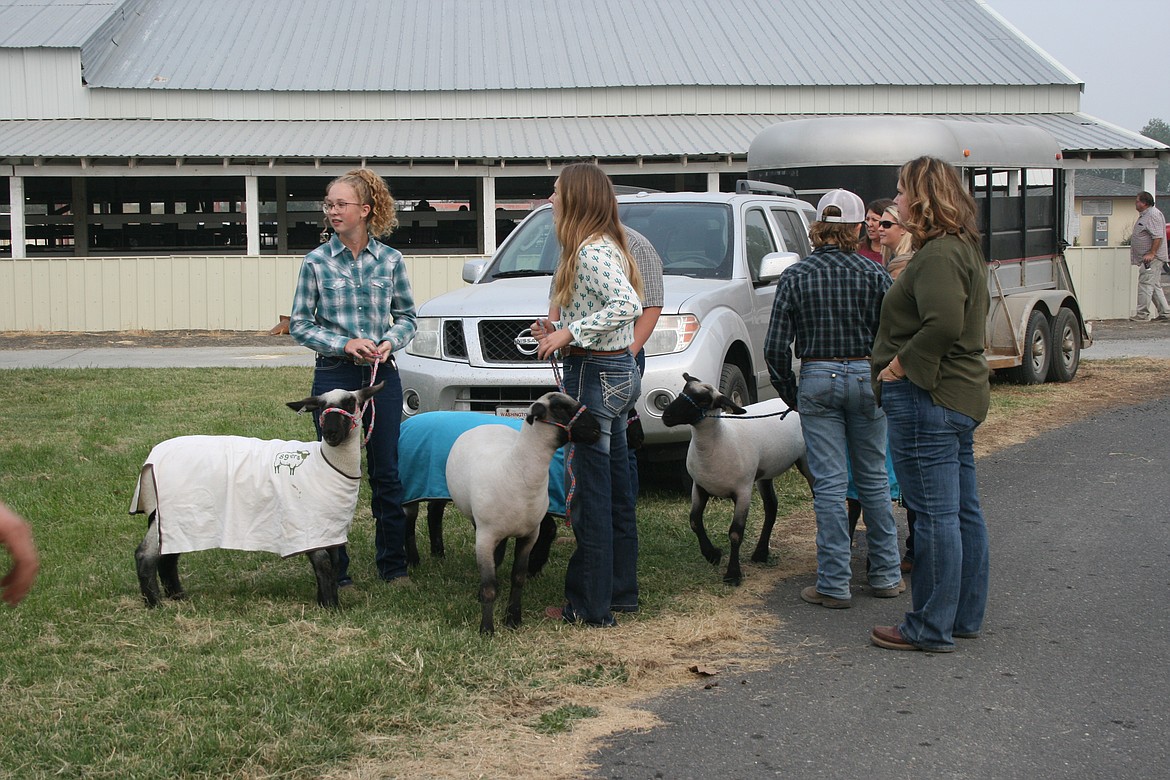 Exhibitors wait for their animals to be examined at the Othello Fairgrounds Friday. The Othello Fair livestock committee sponsored a sale for exhibitors after the fair was canceled.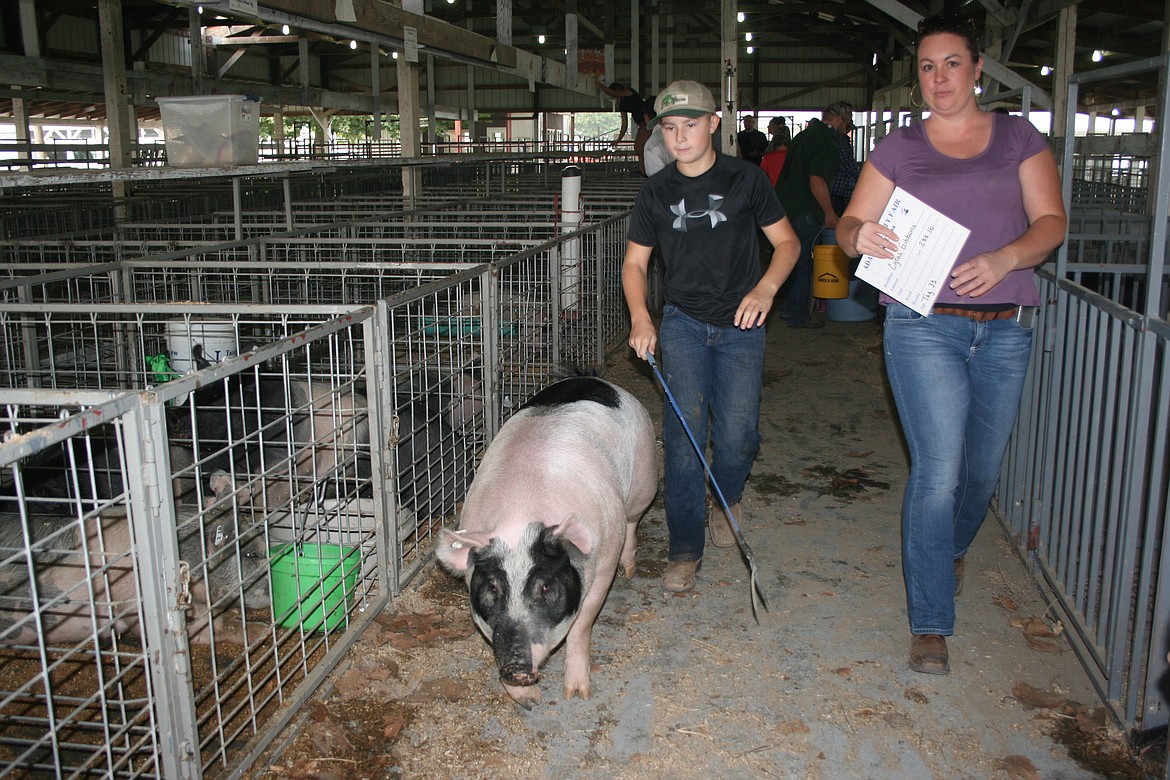 Cyrus Gibbons (left) conducts his pig to its pen at the Othello Fairgrounds. The Othello Fair livestock committee sponsored a sale for exhibitors who had raised animals for the Othello Fair, which was canceled.
Previous
Next
by
CHERYL SCHWEIZER
Staff Writer
|
September 23, 2020 1:00 AM
OTHELLO — It sure looked like the start of the fair. A line of trucks and trailers waiting to unload, pigs and lambs being herded into the chute, kids waiting to see if the animal they've raised all summer made the minimum weight. Or that it didn't exceed the maximum weight – one mom asked if she could take the pig for a walk around the fairgrounds, to see if she couldn't work off those extra few pounds.
But it's 2020.
"It was a weird year," said Caden Correia, of Coulee City, as he herded his pig into its pen at the Othello Fairgrounds.
The Othello Fair was one of the many events canceled in response to the COVID-19 outbreak. But fair officials and the livestock committee succeeded in arranging a sale for kids who had raised animals in anticipation of exhibiting at the fair.
Cyrus Gibbons, of Warden, started his project in March, long before it became clear most fairs would be canceled.
"It was confusing," he said, not knowing if there was going to be a fair, and whether or not the kids would be able to sell their animals.
John Cranston, of Moses Lake, said the uncertainty was the hard part.
"It was kind of nerve-wracking," he said. Participants didn't know if there would be a sale, and he said he didn't really have a backup plan. "All the butcher shops are packed," he said, and there weren't a lot of avenues to sell an animal.
Molly Shearer powered ahead regardless.
"We treated it like it was a regular fair," she said, training her lamb as she would've any other year. Molly, of Moses Lake, raised multiple lambs and won the grand champion ribbon in her class at the Grant County livestock sale that was held in lieu of the fair. "He did pretty good (in the sale)," she said. "He got 7-something (dollars) a pound."
Todd Ashton, a member of the livestock committee, said he estimated the number of entries was about half of what would be expected in a normal year. But while final results weren't available on Monday, total sales exceeded expectations, Ashton said.
"That's good for the kids," he said.
Kalyn Clark, of Moses Lake, raised two lambs, one for Othello, the other for the Grant County livestock sale.
"It was definitely stressful," she said. But her Grant County sale lamb sold for a good price, about $7 per pound.
"It was better than I've ever done," she said.
Grayson Sams was glad to get his pig to the fairgrounds, since it had started jumping out of its pen the last two days, he said. "It's sort of - hard," he said, raising animals this year.
Even showing animals was a little strange. The participants were at the sale for the junior livestock show in Connell, but the animals weren't.
"Instead of having your pig there walking around in front of you, you just had to sit there and smile," Grayson said.
Ashton said most exhibitors in most livestock classes sold their animals for prices comparable to a more normal year.
"I think the kids did OK," Ashton said.
Despite the weird situation, exhibitors said they planned to keep raising animals for exhibition and sale next year.
"I definitely love doing this," Kalyn said.
"It's something I look forward to every year," Molly said.
Cheryl Schweizer can be reached by email at cschweizer@columbiabasinherald.com.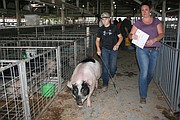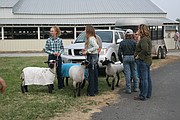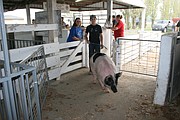 ---