Air quality advisory in effect in Adams, Grant counties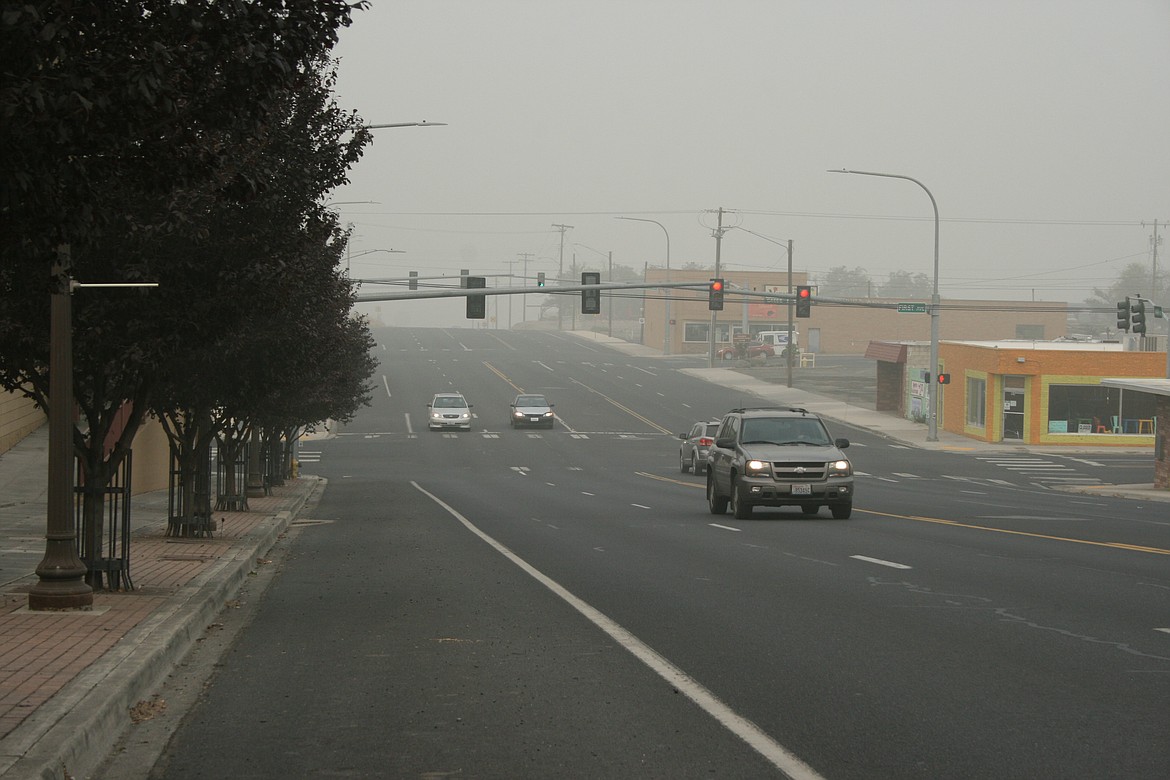 Although visibility had improved, drivers still were required to use their headlights Tuesday morning in Othello due to the smoky conditions.
by
CHERYL SCHWEIZER
Staff Writer
|
September 16, 2020 1:00 AM
OTHELLO — While visibility may have improved, the smoke that arrived in eastern Washington over the weekend is still sticking around and is expected to affect air quality at least through Thursday. The Adams County Health District issued an air quality advisory Monday night, warning residents to take precautions.
A similar advisory was issued by the Grant County Health District Monday.
Visibility had improved by Tuesday morning, but ACHD director Karen Potts said the smoke was still causing problems. "It (air quality) is still at the dangerous level," Potts said Tuesday morning. As of Tuesday, air quality in Ritzville was in the "very unhealthy" range, according to the Washington Department of Ecology's air monitoring program. And that was actually an improvement from Monday, when air quality was in the "hazardous" range.
Poor air quality forced drivers to use their headlights even at mid-morning Tuesday, and forced the Othello School District to suspend in-person instruction for special needs students Monday and Tuesday. Potts said conditions had not improved much in Ritzville between Monday and Tuesday. When she went home from work Monday, "it almost felt like (smoke) had seeped in and filled my car," she said.
"We're hoping maybe Friday we might see a little rain. That would help," Potts said.
The smoke is courtesy of wildfires in western Washington and northern California, pushed into the area by winds from the west-southwest. And the wind was supposed to start blowing it out by Tuesday. But Charlotte Dewey of the National Weather Service office in Spokane said the anticipated winds had failed to arrive.
"The winds really aren't materializing and helping push out the smoke," Dewey said. The NWS office is forecasting widespread haze and smoke at least through Thursday. A 30 to 40 percent chance of rain is forecast for Friday.
"It's the particulate matter that's in it that's so dangerous," Potts said. The particulates make it hard for everyone to breathe, but they are especially dangerous for people with underlying respiratory and other health conditions, the press release said. The smoke can aggravate underlying conditions.
People at higher risk include children and seniors 65 years of age and older, diabetics and people with heart disease or a history of stroke. People who suffer from respiratory infections, like COVID-19, also are at higher risk.
The ACHD recommends keeping doors and windows closed, and keeping the indoor air as clean as possible. The air conditioner, if it's running, should be set to recirculate. People should avoid vacuuming because that stirs up particles already in the house.
The coronavirus outbreak is a complication, since the smoke can increase vulnerability to the virus. The cloth masks and face coverings recommended to lessen the chance of coronavirus infection aren't effective against the fine particles in wildfire smoke, the advisory said.
People should limit outdoor activity when it's smoky.
Cheryl Schweizer can be reached at cschweizer@columbiabasinherald.com.
---