Wahluke girls soccer look to build off last year's run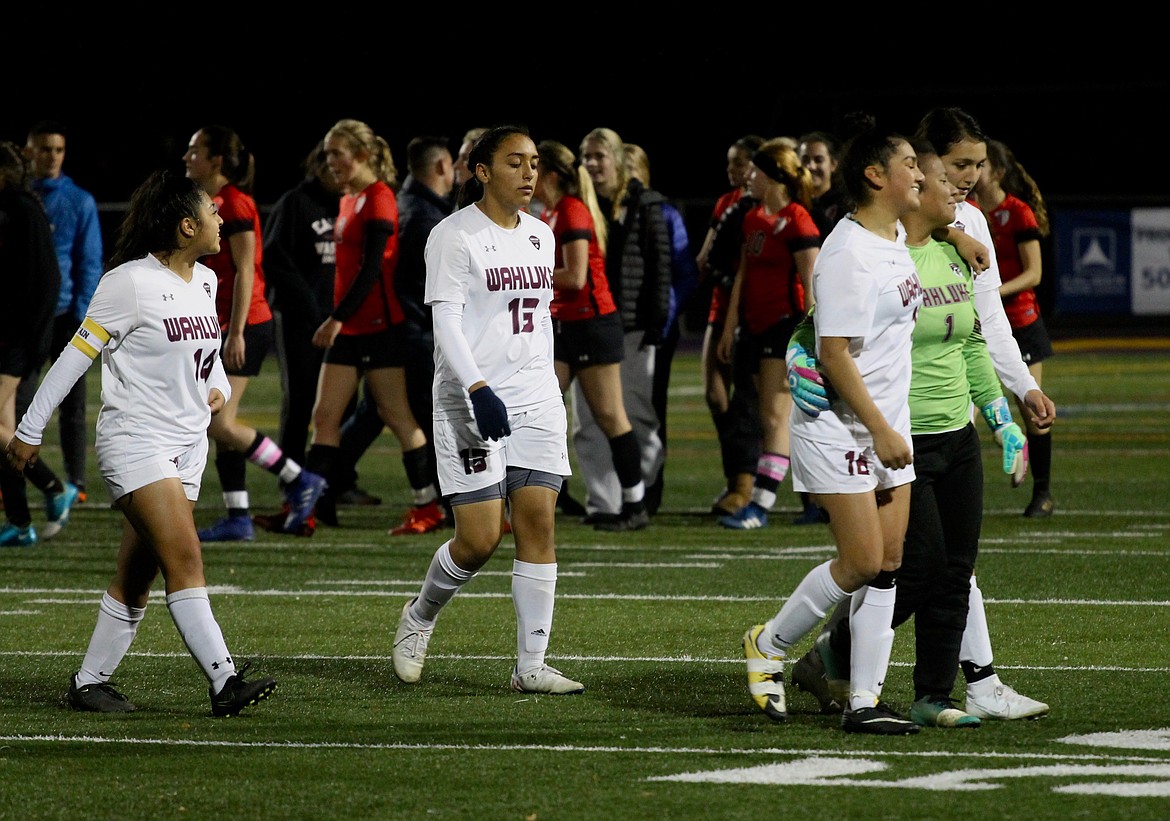 Wahluke girls soccer team walks off the field in Wenatchee after falling in overtime to Cascade HS in the 1A State playoffs last fall.
Casey McCarthy
by
CASEY MCCARTHY
Staff Writer
|
September 12, 2020 1:00 AM
MATTAWA -- Wahluke High School girls soccer looks to build off last year's success after making its first trip to the Class 1A state tournament since 2001.
The start of the regular season is postponed until spring due to revisions to the athletic calendar made by the Washington Interscholastic Activities Association. Warriors Head Coach Cele Lopez said his main priority right now is that his players stay healthy.
"That's the main thing I'm worried about," he said. "We live in a very small city with a high population, and it's kind of scary."
As an agriculture-based community, Lopez said a lot of people locally in Mattawa haven't been able to stop working since the COVID-19 outbreak began. With everyone staying active, he said he just wants the players to stay safe and healthy before they are able to return to the field.
Lopez said he is excited about the team he's bringing back this season, with a lot of talent returning. He said there is a great core of young freshmen coming up this spring, looking to build off the success last year.
"We made history last year," Lopez said. "There was so long without state competition for girls soccer. All the little girls in town, they saw them and started talking about that, telling their moms they wanted to play, and for me, that's a win-win."
If three or four girls get interested in soccer because of the success the Warriors have on the field, that's a win for the program, Lopez said.
Contact and interaction with his players has been pretty limited over the spring and summer, he said. A group chat helps the Warriors coach keep in touch with how his player's are doing with everything.
He said they're not able to do much as a coaching staff while trying to make sure they're staying within the rules. Options are limited in town for ways to players to work together with the school facilities currently closed.
"We don't have a facility, or even a soccer field in town, that we can say, okay, the girls can be there and practice," Lopez said. "School's orders are that all facilities should be closed, so it's super limited just for the girls to even go out and kick around."
A few of his players have taken the mantle as leaders this offseason to push their teammates to work on their own, Lopez said. He said he's seen his players out running on the hills around Mattawa while out riding his bike almost every day.
Being able to make that happen is helping his group look more like a team before the season even gets going, he said. Given the situation, Lopez said it's a good thing to see.
The adjusted start date for the season will add a few challenges they will need to face, Lopez said. Most of his players will be coming right off of their basketball season in the winter. He said he's concerned about injuries due to the ground being harder coming back in late winter, early spring,
"It is what it is and, hopefully, we can put a plan in effect and try and prevent injuries, not try and push them as much," Lopez said. "If we have a season, I think most girls will be pleased. Of course, we want to be as good as last year, but safety will always be the number one concern, always."
A lot of the success from last year's group came from the extensive work the team put in over the summer, Lopez said. Without that time this year, he said he's hoping his girls still have keep their hunger coming into the season.
While he gets a chance to see a lot of them around town often, he said he can't wait for the chance to get back together with his team on the field.
"We live in a small town, so I always see them around, I always see them at the store, and I know almost all the families," Lopez said. "It's not like I don't see them ever, but still, it's different when we're part of the same thing, when we have the same dream, we share a couple hours a day."
Lopez said he's hoping things will improve enough for school to reopen and things to begin to get back to normal. He said he wants the kids to have the chance to be out and active again.
"They really need to see friends, and they need to be active," Lopez said. "Before being a coach, I'm a dad, and I see my own kids struggling with this no-school thing, so hopefully we can keep this pandemic under control and get back to normal."
Casey McCarthy can be reached via email at cmcarthy@columbiabasinherald.com.
---