A new chapter after 30 years of service at Wahluke School District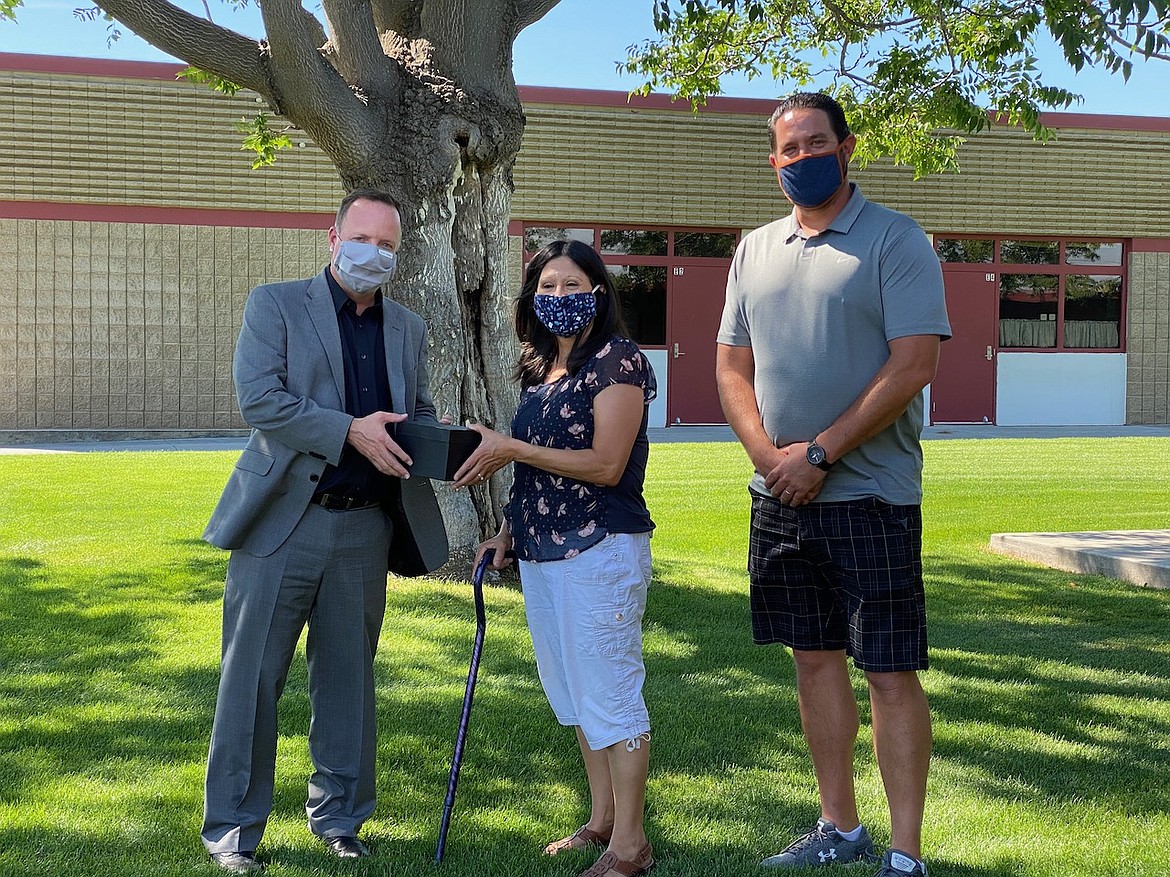 Alicia Cantu, center, is handed the Crystal Apple by interim Superintendent Andrew Harlow, left, while high school principal Cody Marlow, right, stands nearby. The Crystal Apple is a traditional honor presented to staff members upon their retirement, Marlow said in an interview.
Emry Dinman/For The Sun Tribune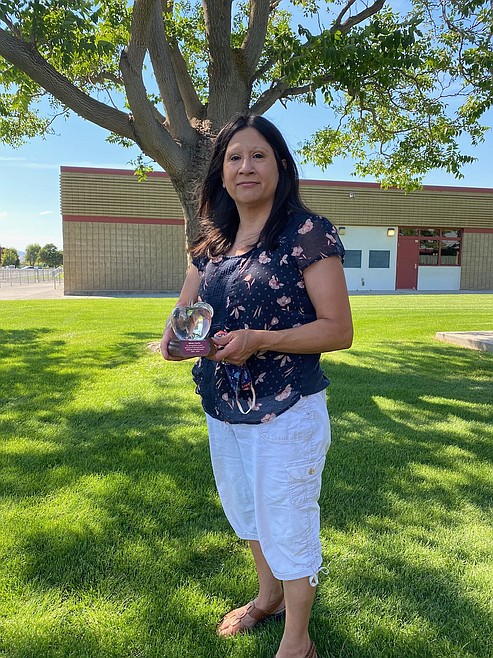 Alicia Cantu holds up the Crystal Apple, which was presented to her after 30 years of service to the Wahluke School District.
Previous
Next
by
EMRY DINMAN
Staff Writer
|
October 7, 2020 1:00 AM
By EMRY DINMAN
Staff Writer
MATTAWA — Longtime Wahluke School District employee Alicia Cantu retired recently after three decades of service to the kids and community of Mattawa and was presented with the Crystal Apple Award by district officials.
"She is an awesome person and did a really good job, she's great with the kids – she was just a great person to be around all the time," said Cody Marlow, principal of Wahluke High School, in a recent interview.
She started working with the high school in the early 90s, recording classes that first year for six or seven students that were learning remotely, before moving to the elementary school to work as a paraeducator. After a few years, she transferred again to the intermediate school, still as a paraeducator.
During those years, Cantu worked in bilingual classrooms, helping the teacher get the students to learn English as she herself improved her Spanish.
"The students really amazed me, how fast they picked it up, and I was learning a new language for them," Cantu said in an interview.
"I also really enjoyed working with the parents – if they had questions, or needed translating, I really enjoyed that, working with them if they had any questions about how to help their kids at home," she added.
That passion for language carried through as Cantu made her next career move in the district, taking on a job as a speech-language pathologist, helping teachers work with students one-on-one throughout the day to teach them proper pronunciation. Her days included a lot of repetition and practice, working with students with flashcards or having them read monologues. It was often a challenge, Cantu said, but deeply rewarding when a student made progress.
"I had one student who had Down syndrome, he was really happy and excited all the time but he wouldn't sit down, but when I got him to sit down and practice his sounds, he was very good at learning," Cantu recalled. "It just takes patience."
During this time, in 2006, Cantu was diagnosed with multiple sclerosis, a disease that attacks the nervous system and limited her mobility.
"I had to decide whether I wanted to continue working or not," Cantu said. "I had to start using a cane, and it made it quite difficult to move around."
But, whether she knew it at the time, she had another 14 years in the tank. Cantu made another career change, taking a position back at the elementary school as the secretary, where she handled attendance records and other administrative work.
"I enjoyed working with parents again," Cantu said. "The communication has to be there with the parents. You have to show respect and be polite, and you've got to have patience."
In 2013, Cantu moved to the high school to work as a secretary there. In the mornings, she would travel to work with her son, who was at that time attending the high school as a student. With 23 years already under her belt at this point, her son wasn't the only high school student she recognized, with a number of kids recognizing her from when they attended elementary or intermediate school.
As the years went by, that phenomenon became more and more frequent, as students that Cantu had seen as young children grew up and had children of their own.
"Sometimes a kid would come out of nowhere and say hi, and you'd have no idea who they were because they had grown up," said Osiel Cantu, Alicia's husband.
And at times those random encounters have been deeply impactful, as when Cantu recently came across a former student who is now also battling multiple sclerosis.
"I just met a student that I knew from high school who goes to the same therapy where I go," Cantu said. "It was good to connect with them, and I said whenever I can be a resource to you, make sure to reach out to me."
As Cantu's multiple sclerosis progressed, she became less and less able to keep up with the volume of work, she said. So, when a position opened up at Mattawa's Sentinel Tech Alternative School, where just over a dozen students take their second chance at a high school diploma, she took the job.
"I just decided that this is a slower pace position, and I could handle that," she said.
But eventually, Cantu said she had to make a decision due to her health. Though she said she is sad not to get to see another generation of Mattawa students grow up and finish high school, the time had come to retire.
"I needed a rest," she said.
Now, she and her husband intend to lay low until the pandemic blows over. Once it's safe to be out and about again, however, she said she hopes to be able to visit her former colleagues and the students from time to time – that, and spend more time doting on her 14-month-old grandson.
Emry Dinman can be reached via email at edinman@columbiabasinherald.com.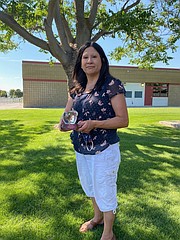 ---