Othello senior commits to Yakima Valley College baseball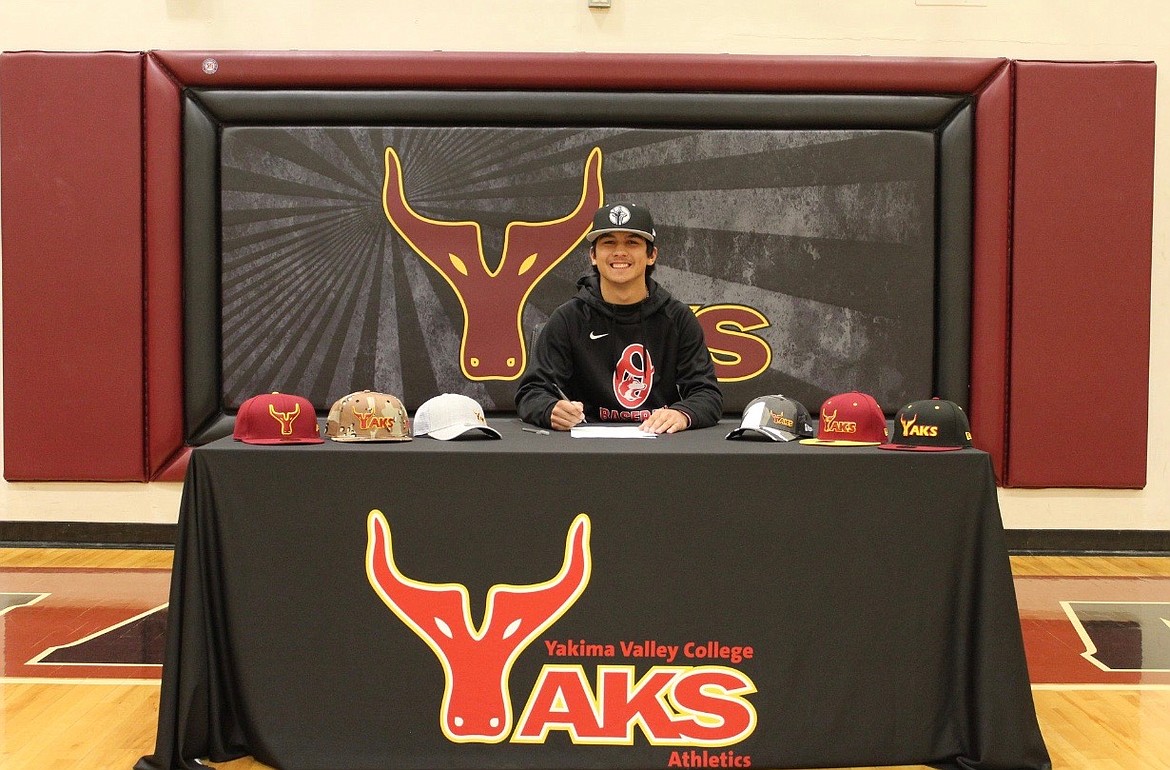 Othello senior Jaxon Rocha signed with the Yaks of Yakima Valley College to continue his baseball career next season.
by
Casey McCarthy
Staff Writer
|
May 19, 2020 8:40 PM
OTHELLO — Othello High School senior Jaxon Rocha said he's been treating this spring like another offseason after his final baseball season was canceled. Any time he hasn't spent working on his game or schoolwork, Rocha said, he's spent fishing.
Rocha's baseball career won't end after high school, however, as he continues to prepare for next season at Yakima Valley College. Rocha said he'd been going to camps at YVC for a few years, getting to know the coaches, working one-on-one in scrimmages and drills.
Rocha said he received an offer after going up for a visit to YVC at the beginning of his junior season.
"Being able to work one-on-one with all the coaches, I really liked it there," Rocha said. "I liked all the coaches, they're really good coaches, the atmosphere, and it's just a winning environment."
Rocha said his confidence built after coming in as a starter in the outfield his freshman season, realizing he could accomplish what he wanted if he just put the work in.
"I guess I've just been working hard ever since that," Rocha said. "I haven't relaxed because I know if I relax there's going to be someone who's working harder than me that may take my spot."
Rocha said that approach has made him a harder worker, putting in time and practice on his own. He said he's just been focused on getting stronger and improving his swing as he gets ready for his first season with YVC.
Ever since he was young, Rocha said, he dreamed of playing college baseball. Signing with the Yaks made that dream come true.
Knowing he had that next season ahead of him helped take some of the pressure away from losing his senior season with the Huskies, Rocha said. While he admits he's "bummed" about missing out on the season, Rocha said he's just trying to stay focused on what he can control.
"It was really disappointing," Rocha said. "As a senior, I was just looking forward to those memories I was going to make with my teammates and my coaches, especially going through Senior Night, walking out with my parents out of the dugout, just looked forward to all of that. Again, I can only control what I can control."
Rocha said it's tough not getting that final season with the group of kids, his friends, that he's played with as long as he can remember. Everyone was coming back this year, Rocha said, from a group that started with head coach Sonny Garza in his first season as freshmen.
"I think we had something great coming this year," Rocha said. "We had a great chance in the playoff run. It would have been exciting to see."
Rocha said it's been weird having the end of his senior year, a moment he's been looking forward to for 10, 11 years, be stripped away.
"It's tough knowing I'm not going to be seeing my friends as much," Rocha said.
For now, Rocha said, he's looking forward to heading off and beginning a new legacy in Yakima. To the community of Othello that has supported him during his athletic career, Rocha said he's just "really thankful" to have that support.
"They've followed me and supported me, so I'm just really thankful for the Othello baseball community," he said.
---