After gallant fight, injured dog found near Mattawa dies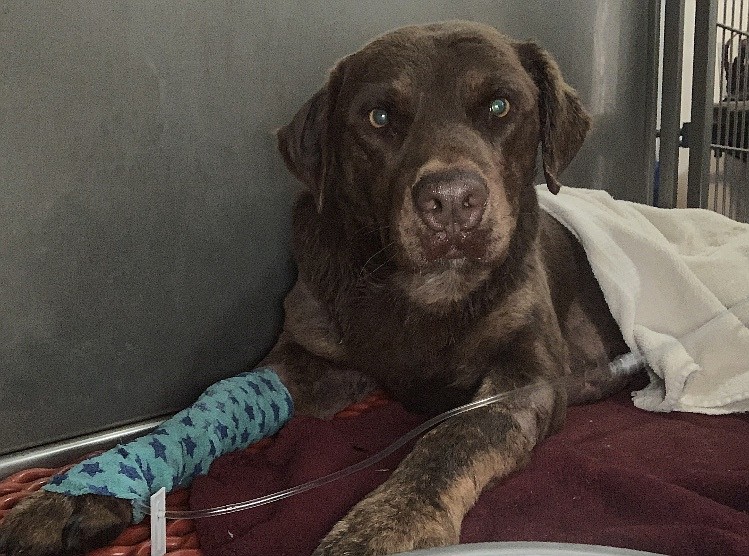 Chester fought hard, but couldn't overcome injuries apparently inflicted by coyotes.
by
Cheryl Schweizer
Staff Writer
|
May 19, 2020 9:26 PM
MOSES LAKE — Although he fought hard, in the end Chester didn't make it. His injuries were just too severe.
Chester was a Chesapeake retriever found near Mattawa on May 13. Bonnie Helvey, president of Animal Rescue Friends Society (ARFS) of Grant County, named him Chester in tribute to his breed.
Chester couldn't overcome his injuries and was put to sleep May 18.
Chester didn't have a name when he was found. He didn't have a collar or a microchip. All that was known about him was that he was badly hurt.
Tom Short, president of the animal rescue organization OkanDogs, said Chester's injuries were consistent with an attack by a pack of coyotes.
OkanDogs, based in Cashmere, focuses most of its effort in Okanogan County, since there are few options there for abandoned or orphaned dogs. But "if there's a dog emergency, we kind of throw away the map. And that was the case with poor old Chester," Short said.
Because Chester had no owner, OkanDogs agreed to pay for his care. The organization is accepting donations to help pay the bill.
Chester was treated at Pioneer Vet Clinic in Moses Lake.
"The wounds were grievous wounds," Short said. Chester's situation was worse because he hadn't received care and his wounds were infected. "He'd been out there for a while," Short said.
"It's hard to know how long he wandered around with those injuries," Helvey said. The vet estimated he had been attacked three to five days before he was found.
He found his way to a residence near Mattawa. "He got to the yard, a grassy area under a shaded bush, and just laid down," Helvey said.
For a few days he seemed to be improving. By Sunday night he had managed to recover enough to drink water. But over the weekend the extent of his injuries became clear, and it was decided to put him to sleep.
Short said Chester may have been dumped in the Mattawa area, which is in his opinion an attractive spot for people looking to get rid of dogs. He's working to find people in Mattawa who will contact OkanDogs or ARFS if more stray dogs are found there, he said.
People who want to contribute to OkanDogs can visit their website, www.okandogs.com, and click on the donate tab. Checks can be mailed to OkanDogs, 6820 Osprey Lane, Cashmere, WA 98815.
Cheryl Schweizer can be reached via email at education@columbiabasinherald.com.
---