Adams County pre-COVID-19 employment looks up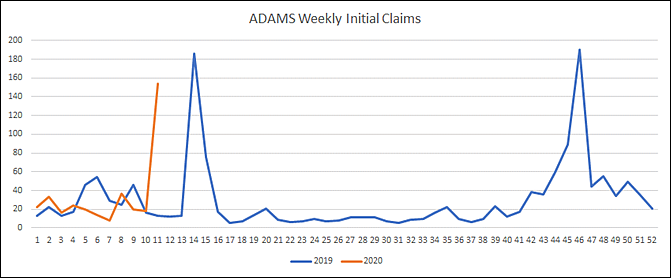 Courtesy graph Unemployment claims in Adams County spiked in the 11th week of 2020.
by
Rachal Pinkerton
Staff Writer
|
March 31, 2020 7:01 PM
ADAMS COUNTY — The non-farm unemployment numbers for Adams County got off to a good start for 2020, but it is yet to be seen how they will hold during the COVID-19 outbreak.
The non-farm unemployment rate in Adams County fell from 8.8 percent in January 2019 to 7.7 percent in January 2020, according to numbers from the Employment Security Department released on March 10.
When looking at non-farm unemployment rates for the past 10 years, the recession that hit the nation between 2007 and 2009 hit Adams County in 2009 and 2010, according to Donald Meseck, a regional labor economist with the state Employment Security Department. The peak was in 2010, with unemployment at 10.5 percent. Since then, unemployment has fallen, hitting a low in 2018 with 5.4 percent. In 2019, it went back up slightly to 6.0 percent.
However, there is an encouraging sign in January numbers. Over the past few years, January has been one of the months with the highest unemployment. But January 2020 was the best since 2018.
"For the last seven months, the Adams County economy has started to improve," Meseck said. "From October, the non-farm growth was quite strong. It ended stronger than we started it. January was a continuation of that. The 7.7 percent is the lowest recorded in January in recent history."
In February, the numbers for Adams County dropped even further to 7.3 percent. The non-farm unemployment rate for February 2019 was 8.3 percent.
But with public officials' responses to COVID-19 affecting the national economy, the unemployment numbers are going to take a dramatic hit. Since numbers for each month are reported on the 12th of the month, Meseck presumes that the March numbers are going to look OK.
"When the April data is released, the impact is going to be tremendous," Meseck said.
While unemployment numbers are not solely based on unemployment claims, they do heavily influence the numbers. From March 8 through 14, only 13 unemployment claims were filed in Adams County. For March 15 through 21, claims jumped to 154 for the week.
"We have seen workforce reductions all across Adams County," said Stephen McFadden, Adams County Economic Development director. "It's too early to tell how many jobs have been furloughed or temporarily lost. We do know that we have closures of small businesses combined with the implementation of partial shutdowns of businesses and local government to comply with the governor's orders to stay home, stay healthy."
At this point, no one knows for sure how long the impacts of COVID-19 will last.
"Circumstances today are difficult, and downright heartbreaking for some of our business owners," McFadden said. "Conditions could deteriorate if the tide doesn't change soon."
Some funds are being made available for business owners.
"The state of Washington is working to roll out a plan to utilize $5 million in Strategic Reserve Funds to create a business grant that will be administered by economic development entities such as the Adams County Development Council," McFadden said. "The federal government's SBA Economic Injury Disaster Loans are available now. Any Adams County businesses impacted by the COVID-19 disaster should apply for this loan program. There's no cost to apply."
During this time, McFadden is focusing on helping Adams County businesses keep their doors open or making sure they can reopen once the crisis is over.
"Economic recovery and resilience is our priority," McFadden said.
---