Volunteers feel impact of Sandhill Crane Festival cancellation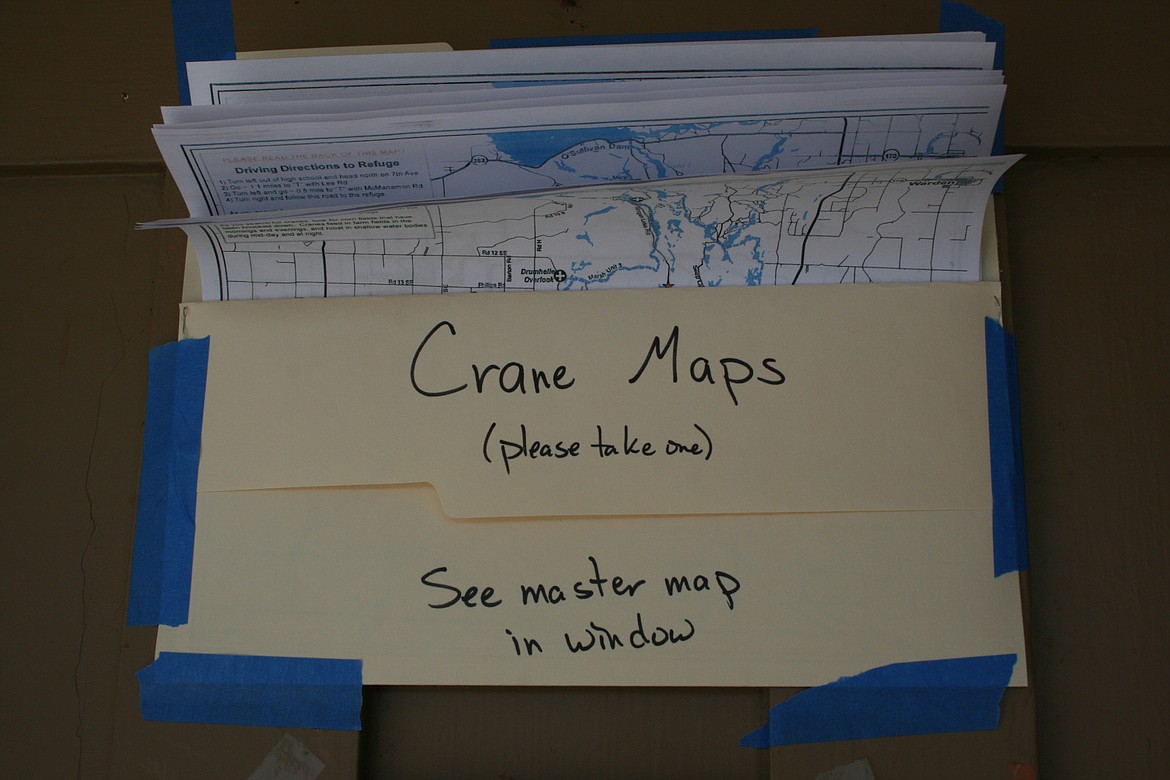 Rather than lectures, tours and a gym full of crafts and games, the 2020 Sandhill Crane Festival ended up as folder full of maps. The festival was canceled due to the COVID-19 outbreak.
Cheryl Schweizer/Columbia Basin Herald
by
Cheryl Schweizer
Staff Writer
|
March 24, 2020 11:29 PM
OTHELLO — Planning for the 2020 Sandhill Crane Festival began in August 2019.
For 2020 the organizers scheduled 32 tours by bus, boat and bicycle, and somewhere between 30 and 40 speakers. The volunteers required to put on the festival — about 400 in all — were preparing for various events, from the kids' activities to the baked potato bar.
Then the news started getting kind of strange.
Organizers had to cancel the 2020 festival about 10 days before it was scheduled to begin. "We all felt it was absolutely the right decision. And it was," Kurt Braunwart, one of the volunteers, said.
This year would've been the 23rd annual Sandhill Crane Festival, and Braunwart has been a volunteer since the second year, he said. His wife Chris is the festival co-chair.
The festival was canceled due to the outbreak of the COVID-19 virus. "We were disappointed that the virus was so ornery with us," Braunwart said. But "it was very clear we needed to cancel."
Not that everybody got the word. "I've had people call and say, 'What? The festival is canceled?'" Jenn Stevenson said. Stevenson is the director of the Old Hotel Art Gallery and another longtime volunteer.
"We as a family enjoy hiking, the outdoors, wildlife — we just enjoy all of it," Braunwart said. The festival is always a sign of spring, and volunteering is a good way to get outside and do some of those activities, he said.
It's also a chance for a lot of people in the community to be part of the same event. "Around 400 volunteers every year are working this festival. And everybody working together builds community. I've really enjoyed that building-community aspect of it," Braunwart said.
The festival also provides an opportunity to teach visitors about agriculture, as well as wildlife and geography. "When people drive through this area it seems to look bland to them. And yet there's a real rich environment out there, and we enjoy showing it to them (visitors)," Braunwart said.
Some of the volunteers are assigned to the same job every year, while others move on to new jobs. "Also, we try to get some new blood every year," attract new volunteers and get veteran volunteers involved in something different, Braunwart said.
For some businesses it's an important event. The week of the crane festival accounts for "15 to 40 percent of our annual sales," Stevenson said. The festival committee had purchased materials that are — or would have been — distributed to attendees. Each year the festival committee commissions an original artwork for its posters and T-shirts. "Probably 200 Sandhill Crane Festival T-shirts," Braunwart said. Luckily there's no date on the shirts.
The Old Hotel was closed due to the order from Gov. Jay Inslee that all cultural and entertainment venues close to the public, along with bars and restaurants. A separate order closed schools statewide.
That didn't stop a few birdwatchers, although none were in evidence Saturday morning. Stevenson said bike-riding birdwatchers had come by the Old Hotel. "Most birders are happy just being outside," Stevenson said, and she left maps of the best places to see birds in a folder on the Old Hotel door.
While 2020 didn't work out, the 2021 festival dates have already been announced. And maybe some of those people who missed out on coming to Othello in the spring will come back later in the year, Braunwart said.
---