Inslee orders Washington to stay at home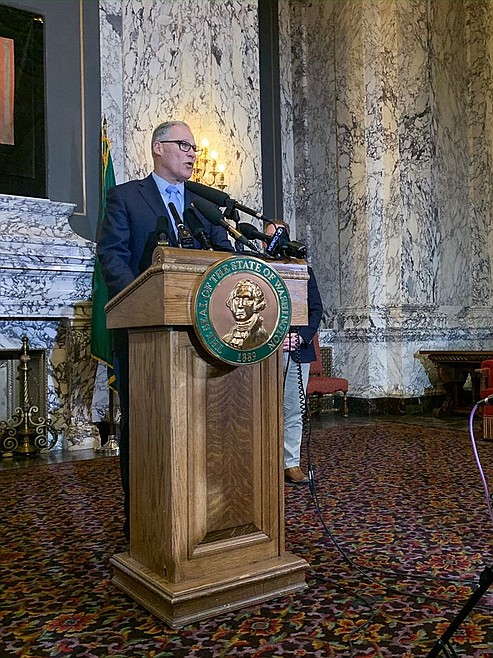 by
Charles H. Featherstone
Staff Writer
|
March 24, 2020 8:25 PM
OLYMPIA — Gov. Jay Inslee ordered Washington residents to stay in their homes for the next two weeks in response to the state's COVID-19 outbreak.
Speaking Monday evening, Inslee said the "shelter-at-home" order also included a ban on all gatherings and closure of all non-essential businesses within 48 hours.
"It's time to hunker down in order to win this fight," Inslee said in a short, televised address. "Distancing ourselves is the only weapon against this virus."
The "Stay Home, Stay Healthy" order, which asks all Washington residents to remain at home except for certain essential reasons like grocery shopping or medical care, comes after insufficient voluntary compliance with local and state recommendations, Inslee said.
Inslee's proclamation is the latest in a series of steps over the past two weeks in reaction to the COVID-19 outbreak in Washington, which was the first state hit with the novel coronavirus.
There were 2,221 confirmed cases of the novel coronavirus in Washington as of Monday afternoon, including 110 deaths, according to the state Department of Health. Just over half of those cases have been clustered in King County, which has confirmed almost 1,200 cases.
The order covers the next two weeks but could be extended if needed, Inslee said.
The order is intended to "reduce social interactions" and slow the spread of the coronavirus and covers all social gatherings from "parties on the beach" to weddings to "pickup basketball in the park," and it will result in the closure of many businesses in Washington.
However, the order will not cover trips to the grocery store, medical or pharmacy visits, outdoor exercise, and essential industries such as health care, child care, some manufacturing, transportation, local government and media.
The governor also said that restaurants will also continue to be allowed to remain open for takeout and delivery. A full list of "essential businesses" can be found at: bit.ly/2WCLaEH.
"This is a very difficult choice, and it will add to economic and family hardship," Inslee said. "We want to get back to normal as soon as possible. We hit this hard, that's the best way to do that."
He also said people should resist a run on grocery stores "for the sake of their neighbors."
"We expect everyone to comply voluntarily because we know all of our loved ones are at risk," the governor said.
Inslee, however, said this crisis is temporary, and will eventually abate. He asked everyone living in the state to be "thoughtful, calm and compassionate" in the face of the coronavirus.
"We will get through this together," he said.
Charles H. Featherstone can be reached at cfeatherstone@columbiabasinherald.com.
---