Royal High School celebrated 2020 graduates Friday night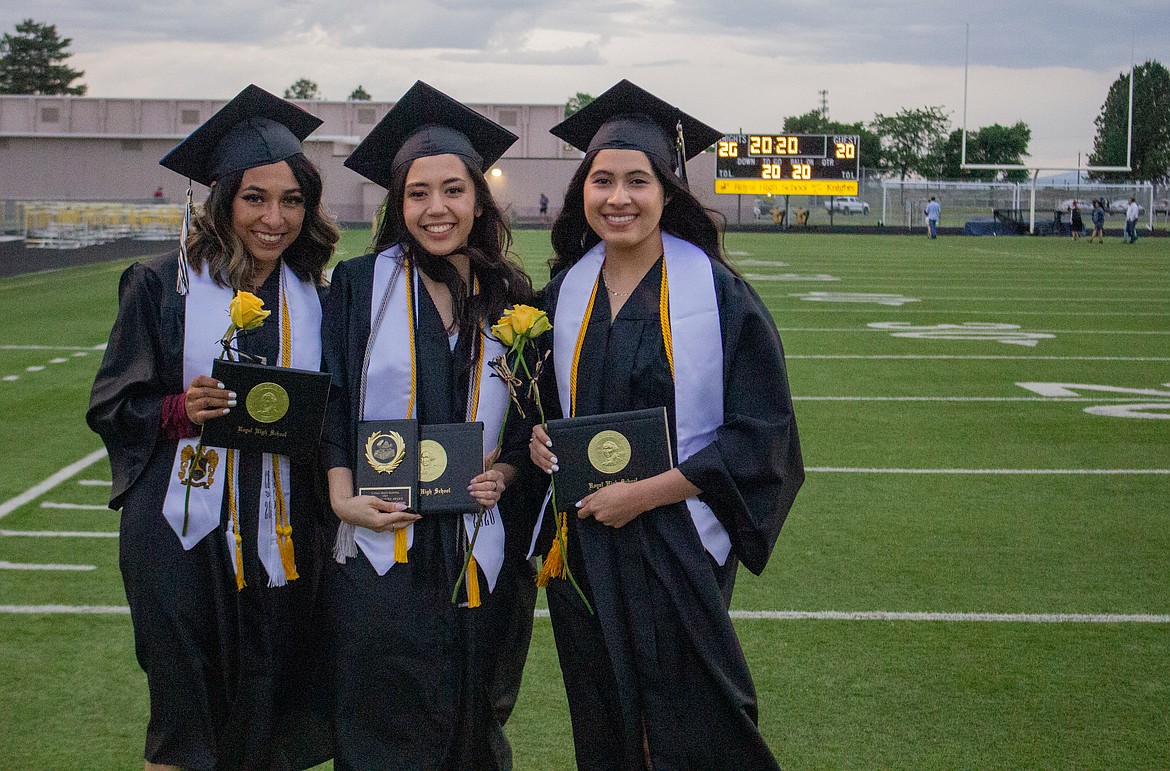 Royal High School graduates celebrated together with their families and friends at David Nielsen Memorial Field on Friday night.
Casey McCarthy/Columbia Basin Herald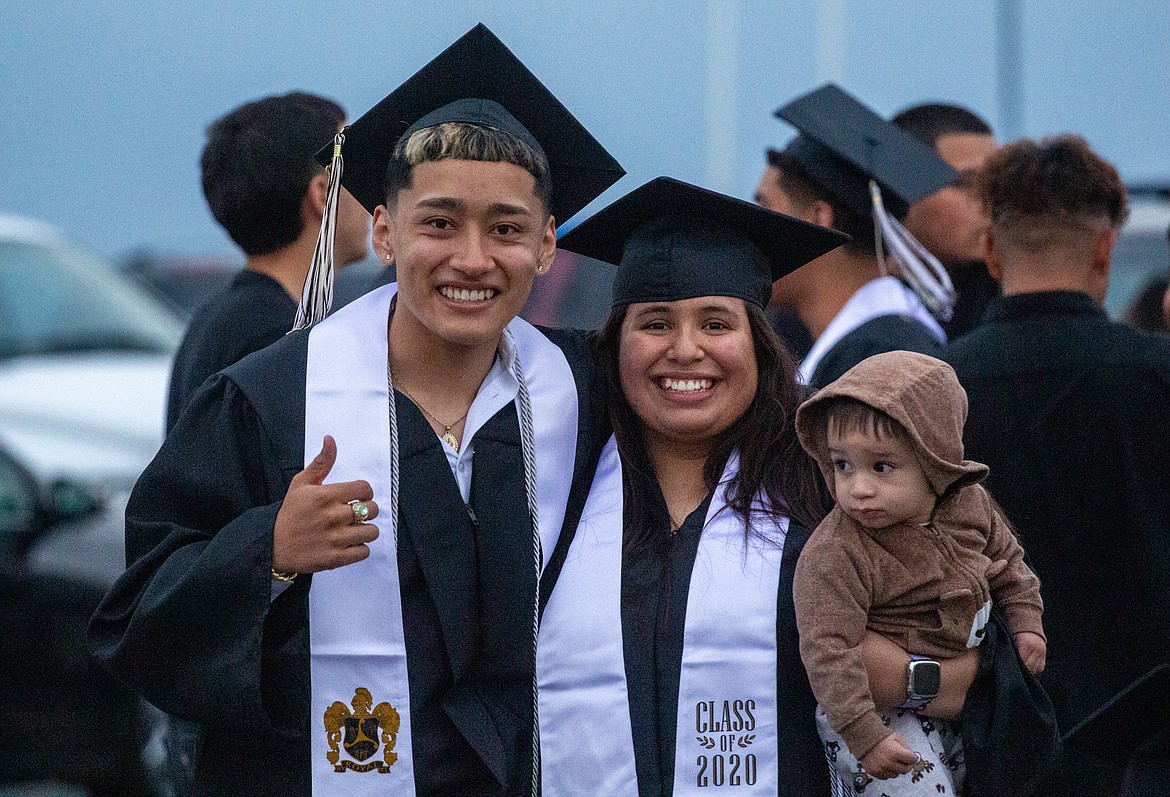 A pair of 2020 RHS graduates pose for a photo together after walking across the stage with their families on Friday evening at David Nielsen Memorial Field.
Casey McCarthy/Columbia Basin Herald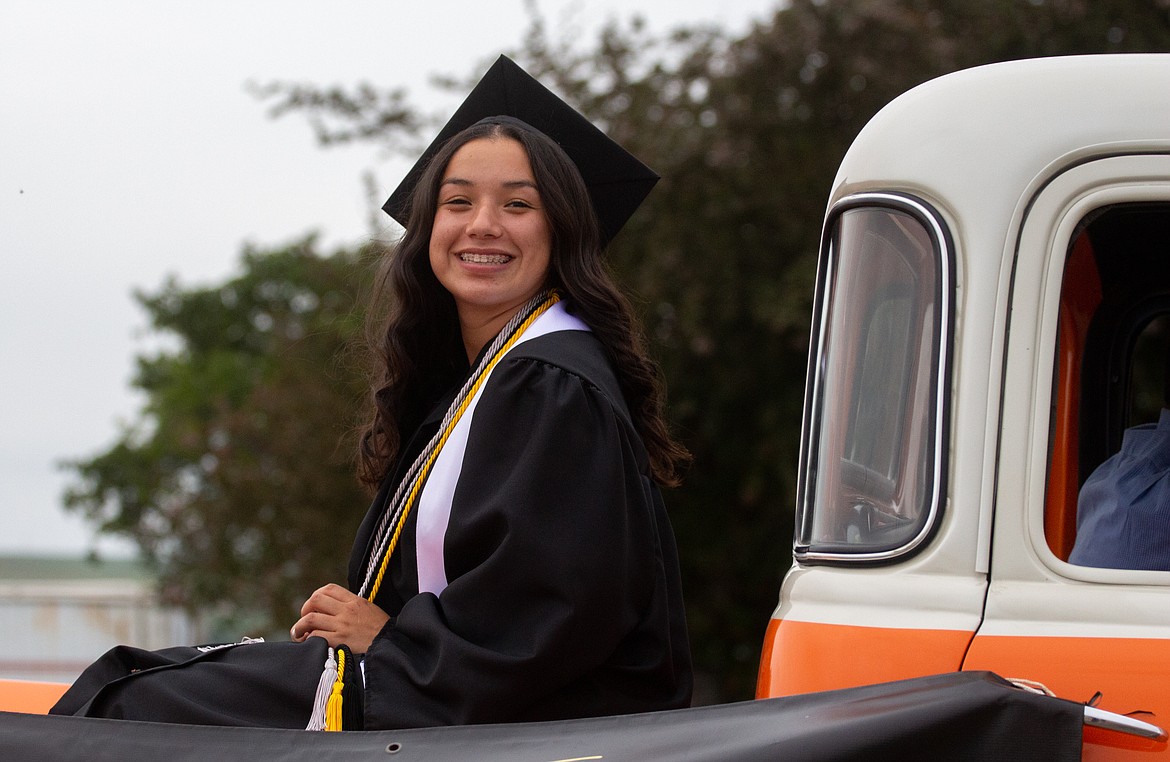 A Royal High School graduate smiles quickly as she passes by during the graduation parade for the 2020 seniors Friday night.
Casey McCarthy/Columbia Basin Herald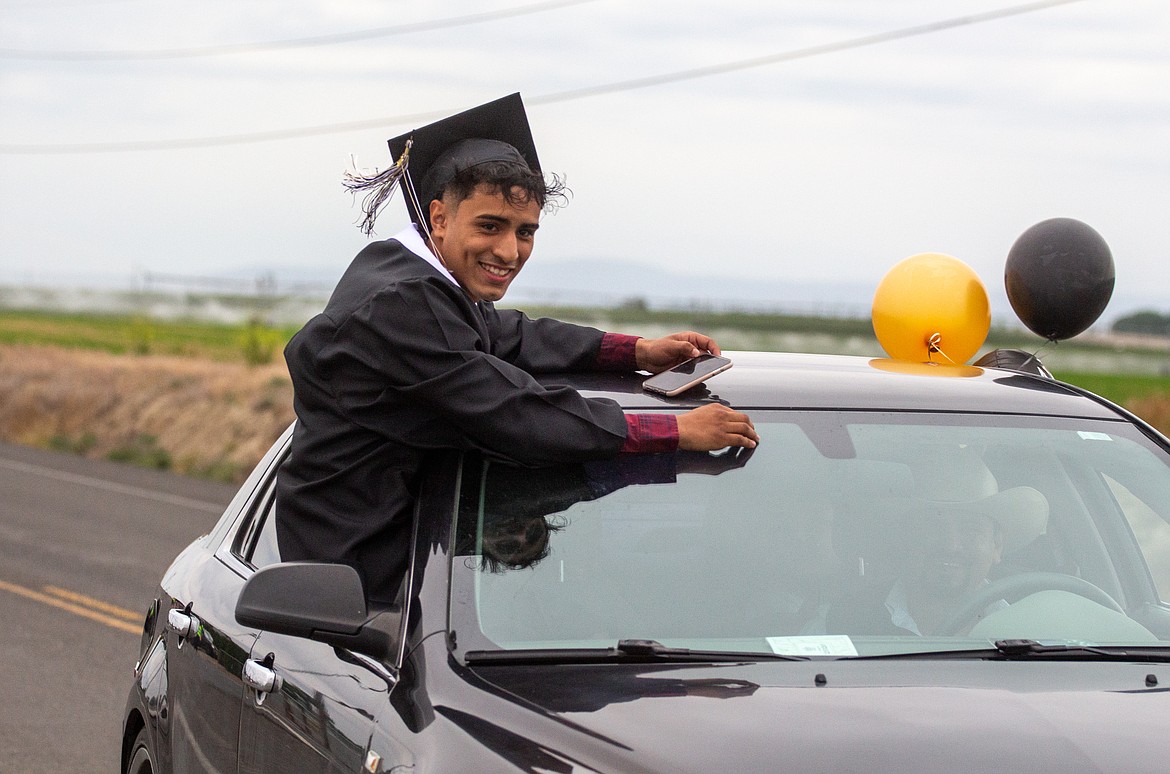 A Royal graduate makes his way down the road during the school's graduation parade to kick off their celebration of the 2020 class on Friday.
Casey McCarthy/Columbia Basin Herald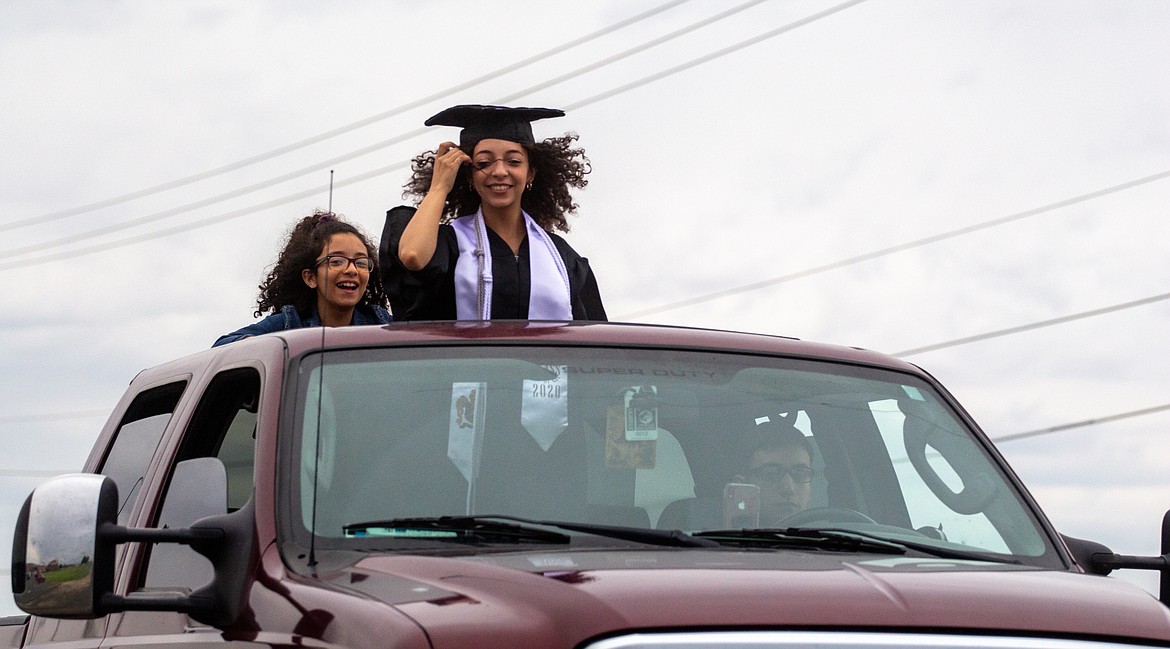 A RHS graduate hangs on to her cap as she heads down the road during the graduation parade on Friday night.
Casey McCarthy/Columbia Basin Herald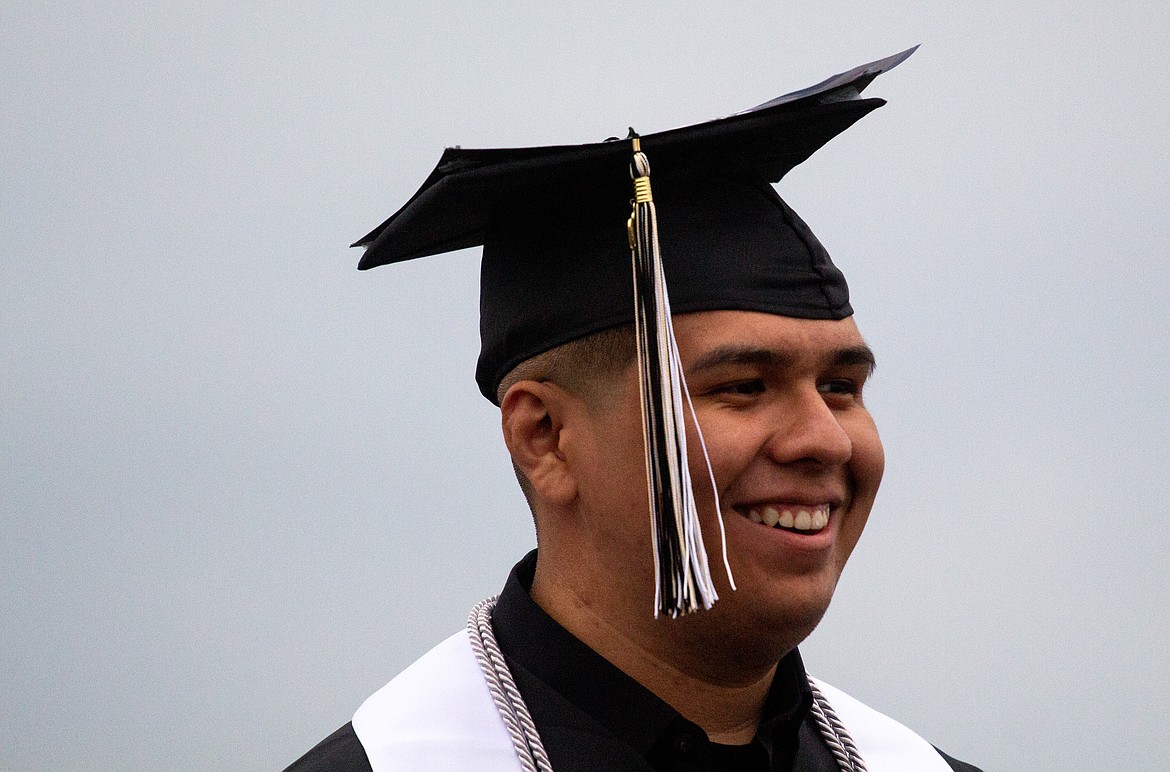 A decent amount of smiles were shed as Royal High School celebrated its 2020 class on Friday night with a parade, ceremony, and fireworks.
Casey McCarthy/Columbia Basin Herald
Previous
Next
by
CASEY MCCARTHY
Staff Writer
|
June 9, 2020 6:01 PM
ROYAL CITY — The Royal High School 2020 graduating class gathered as one for the first time in months for graduation ceremonies on Friday evening.
The seniors kicked off the new graduation format with a car parade at 7 p.m., beginning and ending in the parking lot beside David Nielsen Memorial Field. Graduates and their family members then headed out to the field as separate groups, walking across the stage to receive their diploma covers as their names werere announced.
Fireworks closed out the evening, capping off a graduation ceremony, and school year, unlike many others.
Royal High School Principal Rick Follett said it was great to see the positive response from students and families on the transformed graduation celebration.
"I feel good about it, even had parents and grandparents say that we made a memory for the kids," he said. "And that's what our goal was."
Talking with graduates, Follett said they were happy they got the chance to walk across the stage. Follett said he wouldn't be surprised to see next few graduating classes ask for a parade now also.
Graduating senior Jose Marmolejo said it definitely felt like graduation as his fellow classmates gathered in the parking lot and waited for the parade on Friday.
"Just being here with all the classmates that we grew up with, it's just an amazing experience," Marmolejo said. "Even though we don't have a ceremony, this is definitely unique, the whole parade thing. But this is awesome."
Marmolejo said it was a "great relief" when plans for graduation were announced, not knowing if they'd be able to hold any sort of event.
"Honestly, this is awesome," Marmolejo said. "It's just one of a kind. I'm glad that they did something like this to at least recognize the seniors and all the work they put in."
Gathering together with friends and classmates by his side one more time was amazing, Marmolejo added.
Royal High School graduate Carter Dorsing said the past few months were definitely an interesting "last little section of the journey." Dorsing said, while it's been different for sure, he believes it's going to just make it all more memorable.
"Everyone's going to remember this year and what went down, just the whole parade thing and how it was so dysfunctional," he said. "But, I liked how it turned out."
Students and families took full advantage of the graduation parade, decorating their vehicles with streamers, balloons, posters, and countless other items. Other students, like Royal High School graduate Austin Huss, made their vehicle the decoration.
Huss stood proudly beside his demolition derby car on its trailer as he made his way around the parade loop Friday evening.
"They told us to decorate our cars, and I had this," Huss said. "So I thought, let's just throw this on there. It's my personality. Everyone knows me in it, I drive this all the time."
Huss said he definitely feels like the school did the best it could for the time permitted, putting everything together for graduation celebrations. Huss said he was glad to be able to gather together with old friends again he's known since kindergarten.
Royal School District Superintendent Roger Trail said the 2020 class will be able to say they were the only class to do graduation differently. As he arrived for the celebrations on Friday night, looking down at the field from the bleachers, Trail said the feeling from the scene was almost uplifting.
"They really went all out decorating their cars and really getting into it," Trail said. "Really, there was probably more planning that went into this graduation than there has been for years, because the other way is just kind of old hat."
Trail said he believes the high school was able to do the kids proud.
"I think we did the best we could to celebrate their time in school, and graduating and moving on to their next steps," Trail said.
For more photos of the Royal High School graduation, visit the photo gallery here.
---