Royal School District names employees of the year
by
RACHAL PINKERTON
Staff Writer
|
June 2, 2020 9:16 PM
ROYAL CITY — The Royal School District has chosen this year's certificated and classified employees of the year.
Juan Villafana, a diesel bus mechanic, was chosen as the classified employee of the year. Villafana has worked in the district between five and six years. He is a Royal City native and rode on some of the older buses when he was a student in the school district.
"This is one of the best jobs I've had," Villafana said. "They really encourage you to go up and beyond your work expectations."
Receiving the classified employee of the year award was a surprise to Villafana.
"I didn't even know the school did that," Villafana said. "My supervisor gave a speech and said I was a good employee. I was really surprised about it."
Chris Palmer is this year's certificated employee of the year. Palmer has been with the district for six years, teaching first grade, fifth-grade math and science and sixth-grade STEM (Science, Technology, Engineering and Math) and leadership. This coming school year, he will be working as a specialist teacher, teaching STEM and leadership to all of Royal Intermediate School's fourth- through sixth-grade students.
"This is an exciting opportunity," Palmer said. "I give credit to Mrs. (Linda) Achondo and the whole building for pushing me and challenging me. I always thought fifth-grade math and science was my dream job. She (Achondo) has been supportive. I credit her leadership. She is challenging us to new possibilities."
Palmer started his full-time teaching career in Royal City. Prior to that, he subbed for two years in Ellensburg. After being offered a job in Royal City, Palmer found that he liked the town, a place that he had to find on the map prior to his interview.
"Royal kind of felt like home," Palmer said. "I have loved being a part of this community."
Outside of school, Palmer is active with the fire department.
Rachal Pinkerton may be reached via email at rpinkerton@suntribunenews.com.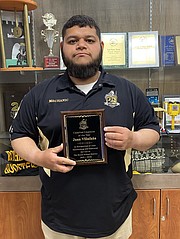 ---