Mid-Columbia Libraries announces summer reading challenge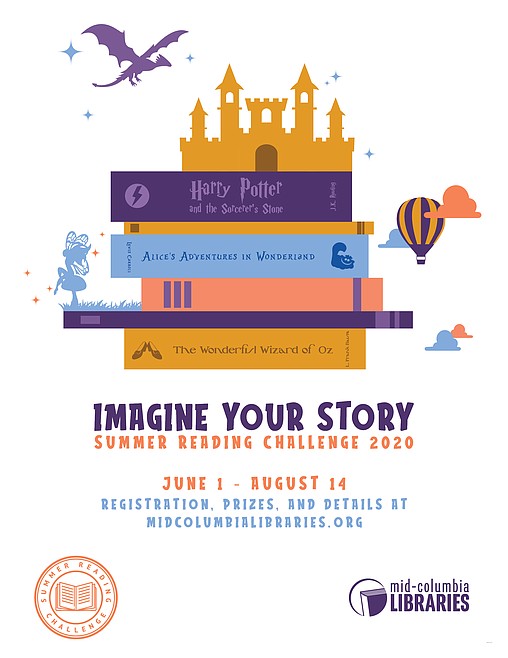 Courtesy image Mid-Columbia Libraries is holding a summer reading challenge from June 1 to Aug. 14. Readers of all ages are invited to read or listen to books for 15 hours.
by
Rachal Pinkerton
Staff Writer
|
June 2, 2020 8:56 PM
KENNEWICK — Each year, Mid-Columbia Libraries offers the Summer Reading Challenge. This year, with the libraries closed due to COVID-19, the Summer Reading Challenge is being held online, according to a press release from the Mid-Columbia Libraries on Monday, June 1.
From June 1 to Aug. 14, readers of all ages are invited to read or listen to books for 15 hours. Teens and adults can also play book bingo. Those who complete the 15-hour challenge will be entered to win a Nintendo Switch, as well as other prizes.
"The 15-hour reading challenge is something we do each year," said Annie Warren, communications manager for Mid-Columbia Libraries. "The book bingo for teens and adults is new this year. In the past, both kids and adults have participated by completing the reading log, but this year we wanted to offer something new and engaging for the more advanced readers."
There will be activities posted each week exploring the theme "Imagine Your Story." Activities will include dragons, fairies and other magical themes.
"Some examples from this week's theme of 'Dragons' include How to Train Your Dragon Word Search, How to Read Dragon Runes and Dragon Color by Number," Warren said.
On July 8 at 11 a.m., singer Eric Herman will be offering a concert. The Lucky Band will perform on July 24 at 11 a.m. Other virtual presentations will take place throughout the the summer. To learn more about the Summer Reading Challenge, visit midcolumbialibraries.org/summer-reading-challenge.
Rachal Pinkerton may be reached via email at rpinkerton@suntribunenews.com.
---