Marilee Garza finishes roller-coaster year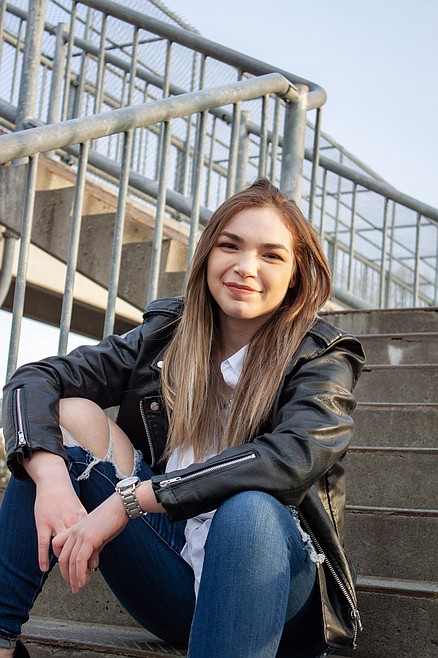 by
CHERYL SCHWEIZER
Staff Writer
|
July 29, 2020 8:00 PM
WARDEN — Warden High School senior Marilee Garza said she's looking forward to new experiences, going to new places. It's kind of ironic, then, that all classes have been moved online for her first quarter at the University of Washington.
As of now, UW is still allowing freshmen to move into the dorms, she said, and she wants to try that. "I want that experience," she said.
Of course, it's all contingent on the coronavirus, and the situation is still very fluid. "It can switch really fast," she said. Garza and her classmates already know about that – senior year at Warden High School got a little crazy.
"A roller coaster, that's really the only way I can explain it," she said. Schools in Warden, like every other school statewide, were closed in March due to the COVID-19 outbreak. Classes went online, sports and events were canceled, and nobody knew whether or not graduation would happen at all.
"For a while, everything was just up in the air," Garza said. "For a long time I didn't think it (graduation) was going to happen."
In the end, the ceremony was postponed to July 24. Garza was the class salutatorian, and in her speech she said she applied a lesson she learned in math class, that two negatives multiplied produce a positive. In the midst of a roller coaster ride of things canceled, postponed and moved online, the class came together, she said.
While it will be exciting to go to new places, her 12 years in Warden schools provided her with a good foundation, she said. She got to know many of her teachers, and they supported her when she faced academic and personal challenges. She played volleyball and was a wrestler, and sports provided lasting benefits.
"I've always had really good coaches," she said, and their support and instruction helped boost her confidence. "It (sports) has given me a lot of good friendships," she said.
Garza has a lot of family all around Warden, and she's known most Warden residents all her life — so they might as well be family, she said. While that was sometimes constricting, it was also true there was support from family and friends any time she needed it. "That instant security," she said.
"I feel like I'll miss the tight-knit community," she said.
She was interested in a career in law enforcement, until a friend recommended that she try some business courses when she enrolled at Big Bend Community College. (She took advantage of a program called Running Start, which allows qualifying high school students to take college classes without paying tuition.)
"I fell in love with that," she said. She has been accepted at the Foster School of Business at UW, one of 200 freshmen statewide. At least tentatively, she's planning a career in finance, she said.
---