Warden High School seniors receive diplomas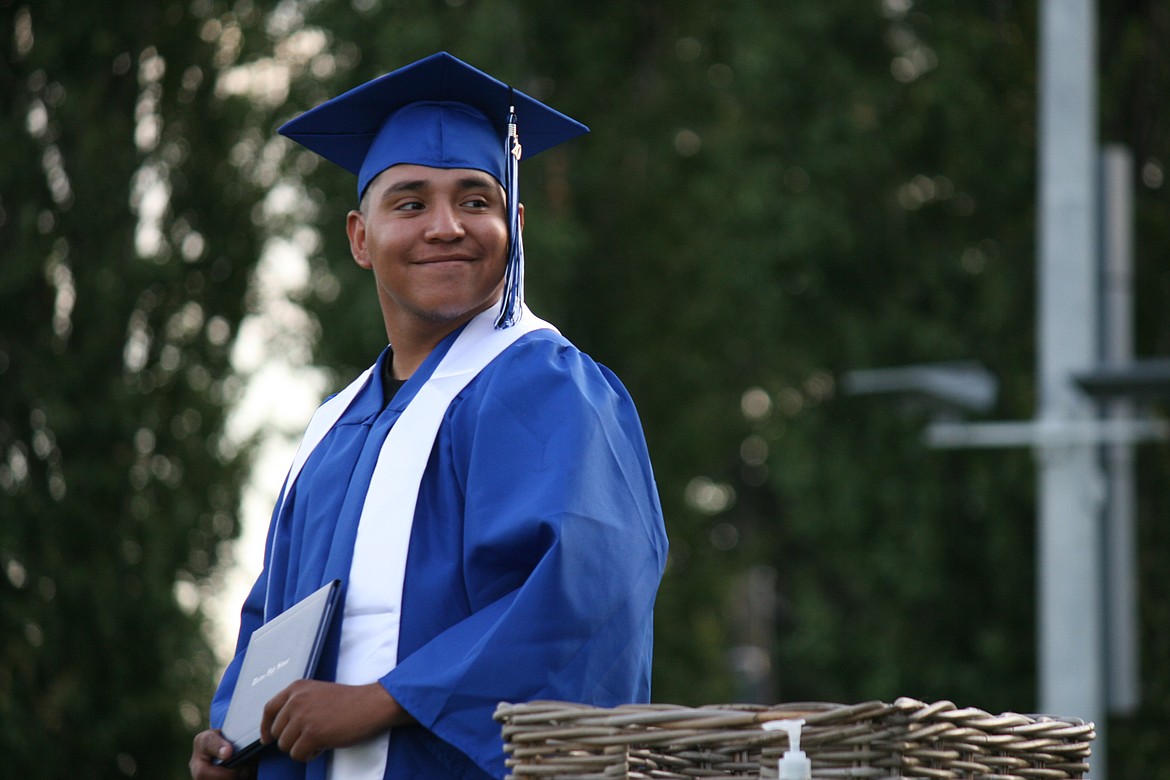 Cheryl Schweizer/Columbia Basin Herald A Warden High School senior smiles at family members as he waits to leave the stage during graduation ceremonies July 24.
by
CHERYL SCHWEIZER
Staff Writer
|
July 28, 2020 10:44 PM
WARDEN — Every parade has candy that participants throw to kids along the route, and Kaden Skone made sure the car parade prior to the Warden High School graduation ceremony was no exception. Skone went from car to car, distributing candy to his classmates as they assembled for graduation July 24.
The car parade was new for Warden, and so was the ceremony, which was outdoors but where kids were required to drive up to the stage. "Different," Skone said, "but it's going to be fun. I can tell."
The changes were required as a response to the COVID-19 outbreak. In Warden as in other schools, the coronavirus outbreak closed school and discombobulated graduation plans.
Warden School Board members voted to delay graduation in the hope a late July date would allow a more traditional ceremony. But the coronavirus is still active, and WHS officials were forced into an alternative plan.
But it was still graduation. "I'm excited. I'm nervous, excited — everything," said April Meadows. The class had been waiting for a while for this day, she said.
"I'm really excited. Super excited. I feel like it is not happening," Vicente Hernandez said.
Trevor Loera, in contrast, wasn't all that excited. "Just feels like another day," he said.
Olga Rocio Franco said it definitely wasn't what she expected when her senior year started. "It feels very different," she said.
Tyson Wall agreed that it was different. "Weird, kind of," he said.
David Pruneda was glad the class got a graduation ceremony. "It feels great. It feels really great that we get to do this, and it wasn't some kind of online thing. We get to have a ceremony," he said.
"It's nice to see everybody, after half the summer," Skone said.
"You guys know better than anybody things don't always go as planned," former WHS principal Courtney McCoy said in her speech to the class. Yet the Class of 2020 worked through the obstacles, she said. Each senior and as many family members as could fit into one car were escorted to the WHS football field by trucks from Grant County Fire District No. 4, the lead truck playing "Pomp and Circumstance" over its loudspeaker. The ceremony was a drive-up affair, where only the graduate was allowed out of the car.
The seniors took one last action as a class just as the ceremony ended. They emerged from their vehicles, not really paying attention to admonitions coming over the loudspeaker, and walked to the "W" at the center of the field. On the count of three, they threw their mortarboards into the air, then picked them up and returned to their vehicles.
Cheryl Schweizer can be reached via email at education@columbiabasinherald.com.
---