Q&A with Georgia Bunch, Othello valedictorian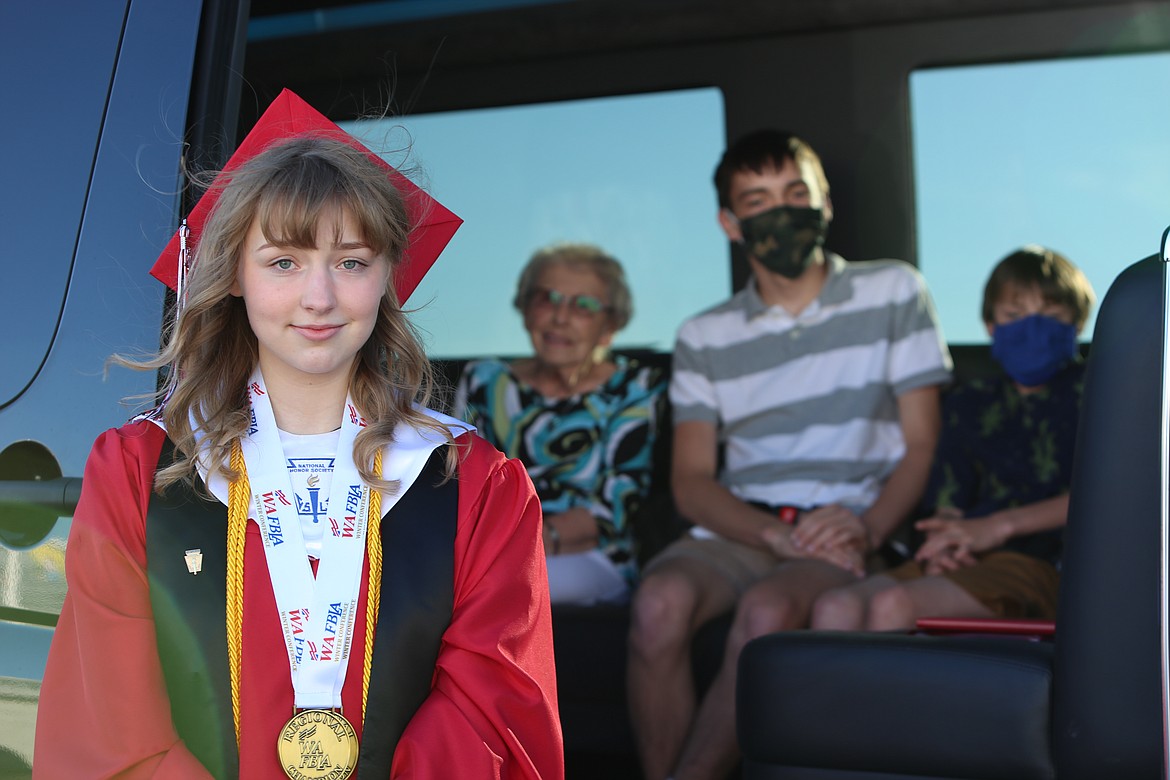 by
RACHAL PINKERTON
Staff Writer
|
July 24, 2020 8:00 PM
OTHELLO — On Friday evening, Othello High School senior Georgia Bunch walked across the stage and graduated as the Othello High School Class of 2020 valedictorian. The Sun Tribune reached out to Bunch and asked her questions about high school, the COVID-19 shut down and where she is headed this fall.
Q: How many years were you in the Othello School District?
Bunch: I've been here since kindergarten.
Q: Who was your favorite teacher in elementary school?
Bunch: Probably my favorite teacher was Mrs. Deasy from first grade. She is a family friend. She still checks in on me, even though I'm not in first grade. She was a really warm and friendly person. It was really important to have her as such a really young student. I felt loved. It made me have a positive relationship with school.
Q: Who was your favorite teacher in high school? What was your favorite class?
Bunch: My favorite class at OHS was AP environmental science with Mr. Vasquez. I initially signed up for the class because it was an AP class and I wanted to be challenged. He expected us to do things on our own. I felt more like an equal than a student in that class. The material was very interesting. It was more about how he presented it to us and how he taught us.
Q: Any other teachers that you would like to mention?
Bunch: I also appreciated my middle school teacher Dr. Couch and Mr. Rocha and Mrs. Lewis at the high school.
Q: What activities were you involved with in high school?
Bunch: I was involved in the cross country team and FBLA (Future Business Leaders of America). I was part of the National Honor Society. I also helped start a mental health club called GPS (Giving Peer Support). We noticed a lot of teacher-to-student interactions about mental health. The messages were coming from adults who the students didn't have relationships with. We have had students trained so students feel connected to the people who have the messages about mental health.
Q: What will you remember most about high school?
Bunch: I think I will always remember cross country specifically because of Coach Guevara. I'm not a very athletic person. He pushed me to still compete at a varsity level. It taught me about pushing through things I'm necessarily not good at. Most of my life, I've kind of quit at things I'm not good at. School is something I'm good at. I decided to branch out in high school. I was freaking out. Coach made me realize that it's okay to not be good at everything. I will get better if I keep practicing.
Q: How has COVID-19 impacted your senior year?
Bunch: I think it's really made things a lot more difficult for me in school. I'm a visual person. That with the added pressure of things going on in the world and being unsure of the future, it forced me to put more effort into school than I usually have to.
Q: Do you think what you learned in cross country helped you with the last few months of school?
Bunch: I think what I learned helped me. At times, I turned in less than my usual work. Even if I'm not naturally good at learning online, I pushed through and am still better than I naturally would have been.
Q: How does it feel to be the valedictorian?
Bunch: For me, I've been working hard for the past four years, taking extra classes, hard classes. Being valedictorian makes me feel recognized for that.
Q: What did you talk about in your speech?
Bunch: I talked about how high school has taught us to get through differences and overcome challenges that we have. We can get through this current challenge with the pandemic and challenges throughout the rest of our lives.
Q: What will you miss about Othello High School?
Bunch: I'm going to miss the people there. I have really great relationships with my peers and teachers. I'm not going to the same colleges as my peers. I'm going to miss them a lot.
Q: What is your next step?
Bunch: I'm heading to the University of Washington. I'm studying pre-medicine to be a doctor. I don't know what type specifically. I like to help people and to interact with people. I think being a doctor is going to be the best.
Q: How will you handle it if all your classes are online this fall?
Bunch: I think I'll take a lighter course load if I'm doing online classes. I need to focus on my class load.
Q: Is there anything else you'd like to add?
Bunch: I really appreciate the support the community has given and my peers have given (during COVID-19). It has been difficult having our senior year taken away out of nowhere. The community has been supporting us with things like adopt-a-senior. I'm not going to forget it, and I view it in a positive way.
Rachal Pinkerton may be reached via email at rpinkerton@suntribunenews.com.
---