A happy end to a strange year for Othello High School grads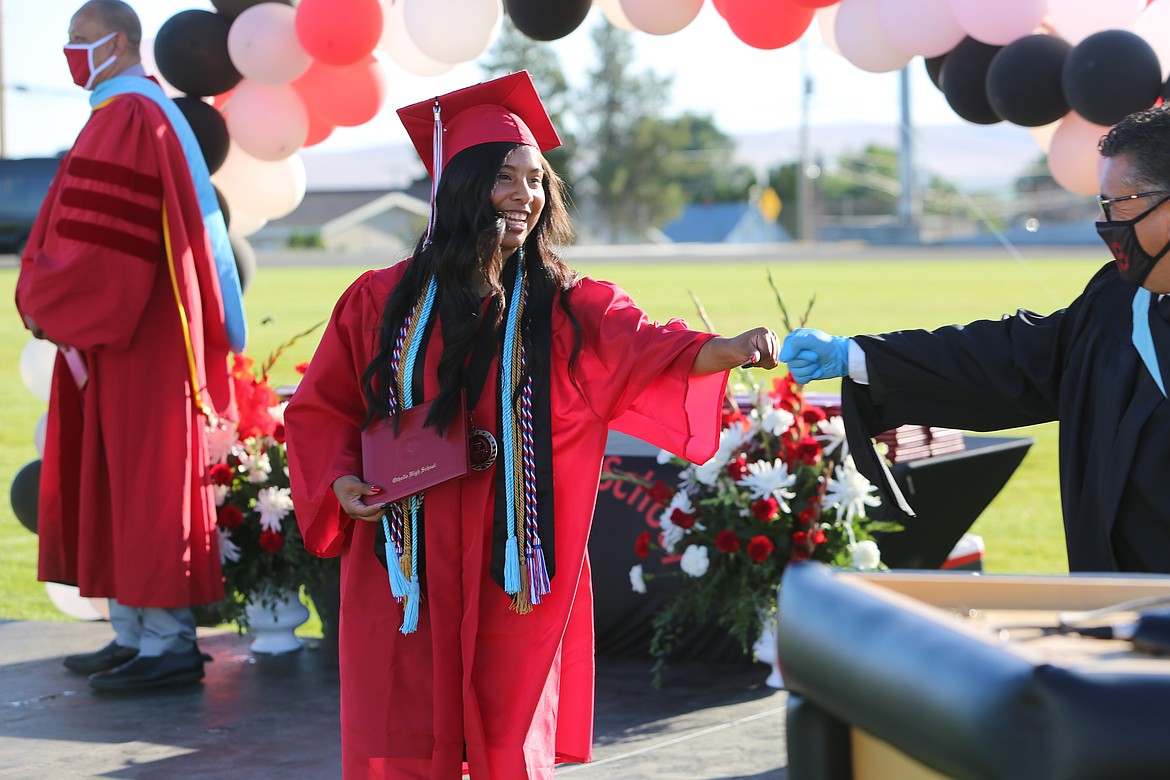 Emry Dinman/Columbia Basin Herald Othello High School ushered off its 2020 graduates with an unorthodox ceremony.
by
EMRY DINMAN
Staff Writer
|
July 22, 2020 8:00 PM
OTHELLO — It was the kind of unusual graduation ceremony that has become all too common during the pandemic, as around 250 Othello High School graduating seniors drove along the football field to receive their diplomas.
Guided onto the track by sheriff's deputies, newly graduated students and their families drove two by two to separate stations wreathed in balloons, where their names were called, their pictures were taken, and they waved to teachers for the last time before they drove off into the next chapter of their lives.
It was a capstone to a strange school year interrupted in March by the pandemic. Graduate Leandro DeLeon Jr., whose higher education plans have been put on hold, was among the first students to be handed his diploma. The oldest sibling in his family, Leandro and his mother, Elda, reflected on the school year that had recently come to an end.
"It went fine until this pandemic happened, but regardless it was still a fun year while it lasted, and I was able to keep in touch with everybody through social media," Leandro said.
Now, Leandro said, he's just looking forward to finding some way to enjoy summer break, hoping to find a place to go on vacation.
Students were funneled onto campus 15 at a time, in order to prevent backups and traffic jams, said high school Principal Alejandro Vergara. Vergara said that when planning for the unorthodox ceremony started back in late April, everyone had hoped that having a later graduation than other schools would give them a chance to host a traditional ceremony.
"So we waited and waited to see if you would be allowed to have some kind of regular, traditional grad ceremony, even if it was in small groups," Vergara said. "That's why we waited until the middle of July to have the ceremony, hoping that we would be at a phase to allow some sort of traditional ceremony, but of course that wasn't possible."
The district began looking at how other schools had handled drive-up graduations and tried to find a way to sort through around 250 students without taking the entire day, he said. The senior activities committee, comprised of teachers, parents, staff, local and county law enforcement and students, came together to organize the event.
"It was a whole community effort," Vergara said. "Again, there was no script; we just hoped that it would work out as well as it could under the circumstances, and we were pleased with the result and the attendance."
Vergara, who will be leaving his position before the start of the next school year to pursue other opportunities, became the high school's principal four years ago and said he watched Friday's graduates grow from the time they were freshmen and was glad to see them one more time.
"It was certainly a good feeling, we got to see their faces light up, got to see them excited about graduation but also their next steps in life," Vergara said. "I'm proud of the community of Othello and I'm proud of the leadership of the Othello School District for making this happen."
---