Big dreams for a small stand owner in Othello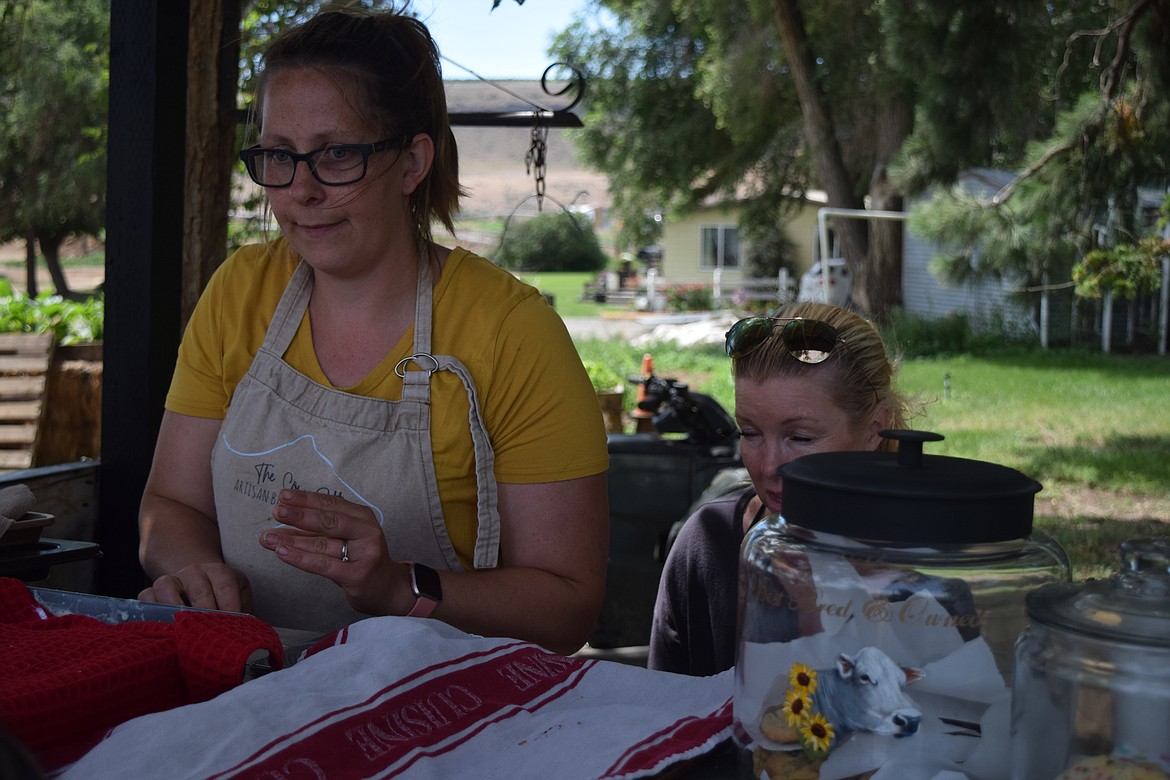 Janice Baginski (left) and her sister-in-law Jennifer Baginski help customers on the opening of Baginski's roadside baked stand south of Othello.
Charles H. Featherstone/For The Sun Tribune
by
CHARLES H. FEATHERSTONE
Staff Writer
|
July 17, 2020 8:00 PM
OTHELLO — It's The Stand's first day of business.
But you would never know it. Not from the crowd of people gathered around a small stand at the end of a dusty lane south of Othello aptly named "Dessert Road."
The crowd is lined up politely, asking about the cheesecake and the s'mores cookies, kids wondering if they can go look at the "little cows."
"I'm here for the cinnamon rolls," said Karen Gonzalez. "We found this place easy. We found it and everything here is amazing."
Gonzalez asks baker and The Stand owner Janice Baginski what's on the trays covered with towels, something Baginski does to protect her baked goods from the bugs. Gonzalez is no stranger to Baginski's cinnamon rolls — she's bought them before, when Kix Stand Espresso on Main Street in Othello sold them.
Baginski has been doing business since early January as The Cow Path Artisan Bakery and Creamery, making baked goods to order and selling them from time to time at coffee shops and espresso stands.
"I rent kitchen space at The Pizza Factory in Othello," Baginski said. "Up until now, whatever people ordered."
It's an outgrowth of the family dairy farm, Dan Maur Farms, which Baginski's husband Chris tends with his parents.
"I run this dairy farm with my husband and three kids and we're just looking for other ways to make an income," she said.
The Stand really is a stand, mostly finished, under the mid-morning shade of a spreading tree. In addition to her collection of baked goods, Baginski has jars of fresh blueberries, locally made candles, one last carton of cheese from a cheesemaker in Idaho, and she served complimentary blueberry lemonade and cucumber water in paper cups with positive messages like "Smile!" inked on the side.
"It's our first day," Baginski said. "We have never done this before. We finished this (the stand) last night, and we still have half a roof to go."
By mid-morning, there's not that much left.
"We had a rush," Baginski said.
Baginski, who said she grew up on a dairy farm in Canada, is also happy to have kids go look at the calves. She thinks it's good for people to know something about how their food comes to be.
"There's no better way to understand where your food comes from than to actually see it and ask questions," she said.
Baginski got a little help from her sister-in-law Jennifer Baginski, who described herself as a "COVID refugee" from Seattle hiding for the duration out on a farm near Othello.
"She's looking to have things from other local artisans, looking to support the community," Jennifer said.
Baginski said she's looking at expanding her farmstead offering to include more cheese, seasonal jams, and possibly even more of the family's dairy. However, she is also dreaming of something much bigger than a farmstand.
"My goal is to have my own storefront in Othello," she said. "Sooner rather than later."
Charles H. Featherstone can be reached at cfeathersrtone@columbiabasinherald.com.
---