Nematode researcher aiming for plant resistance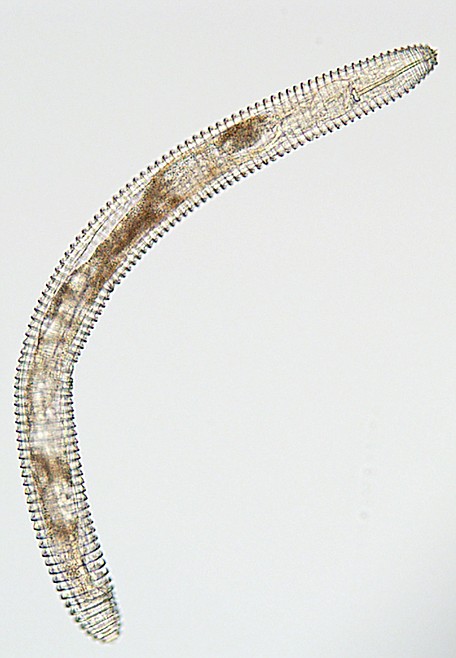 Nematodes use their stylet, the straw-like structure in its head that acts like a mouth, to eat the root. The stylet for this nematode can be seen inside its body, on the right side of the parasite.
Inga Zasada/Courtesy photo
by
Rachal Pinkerton
Staff Writer
|
January 30, 2020 8:45 AM
MOSES LAKE — What aquatic, microscopic worm inhabits all of the ecosystems on the earth? While some of its species are beneficial to soil health, others are destructive to crops and the human intestinal tract. What is this parasite species? It is nematodes.
"Nematologists like to claim that they are the most abundant organism on the face of the earth," said Inga Zasada, nematologist for the USDA and Oregon State University. "They occur in every ecological system – oceans, trees, mountains, humans. They're not all bad."
But farmers, wine growers and raspberry growers in Washington and around the world may argue. Zasada studies two of the main types of nematodes that plague Washington growers – the root-knot nematode and the root-lesion nematode.
"My job is to research ways we can control nematodes in crops grown in the Pacific Northwest," Zasada said. "I work specifically in wine grapes in eastern Washington, potatoes across the Pacific Northwest and red raspberries in Lynden."
Zasada is specifically researching the life cycle of the nematode. So far, the studies have found that the northern root-knot nematode, found in studies in the Yakima Valley, only has one generation per year.
"In Washington wine grapes, people thought the northern root-knot nematode had several generations per year," Zasada said. "It does not. Data shows that there are very defined times in the year that it is best to treat for this nematode in vineyards."
The same isn't true for other types of nematodes.
"They don't have a defined start and stop like the root-knot," Zasada said. "The problem with other nematodes is that they occur all the time in samples. We're always seeing multiple different stages. They're all overlapping. It makes it hard to figure out what is going on."
In the Pacific Northwest, growers will typically see six or seven different types of nematode species on their soil reports. Researchers focus specifically on two to three of those.
"We consider them to be the most important," Zasada said. "They are the root-knot, root-lesion and, I think for growers, I would say the stubby-root nematode."
The biggest difference between the three parasites is how they behave. Root-knot nematodes enter the root and cause it to become enlarged. Root-lesion nematodes also go inside the root, they do not stay in one place like the root-knots.
"The root-lesion moves around the root and causes a whole lot of damage," Zasada said. "Both decrease the ability of the root to function."
The Stubby-root nematode doesn't enter the root, but pokes its stylet, the straw-like structure in its head that acts like a mouth, into the root to eat. Once it has gotten what it wants, it will move to a different location. It also has the ability to inject viruses into the plant.
"Potato people are very aware of what that can do," Zasada said. "All three attack potatoes. Raspberries are mostly root-lesion."
Across the Pacific Northwest region, nematodes were found in 86 percent of soils tested between 2012 and 2016.
"I'm not trying to say that it's an issue in 86 percent of fields," Zasada said. "It's not an issue in all fields. But it can be an issue in a particular field due to a number of things."
Irrigation and excess water can be a cause of nematode infestations. Nematodes are aquatic ground worms.
"They're actually in water filled spaces around soil particles," Zasada said. "They're not going to survive out of water. One strategy that could potentially be used is dry fallow. They require water to live."
The crop type, soil and stress level also play into nematode issues. As of now, fumigation is the best way to control nematode populations.
"I want people to recognize that the bad plant nematodes are commonly found in plant production fields in the Pacific Northwest," Zasada said. "They're not a problem everywhere, only in specific locations. It's based on what is growing and what the soil type is. It's important to know what you have by collecting a soil sample to make decisions about nematodes."
While there are a lot of nematodes that are bad for plants and humans, not all are bad.
"There are good nematodes," Zasada said. "I focus on the bad ones that have economic importance. Most nematodes in the soil continuum are nutrient cycling. They contribute to soil health. There is a really big project addressing soil health. Nematodes are part of that, just like bacteria and fungi."
There is a collaborative project starting to get underway with Washington State University and Colorado State University to study these beneficial nematodes.
For Zasada, she would like to see plants that are resistant to the harmful nematodes.
"The holy grail, in my mind, is plant resistance," she said. "Using a plant that can combat nematodes by itself is most economical. We're doing work of looking at grape root stock. We have a few new chemical nematicides. Myself and other nematologists in the region are working on them to understand how we should use them in the Pacific Northwest. It's a short-term strategy. The long-term plan is for plants to combat nematodes on their own."
---