Wahluke AD's focus on student athletes for coming season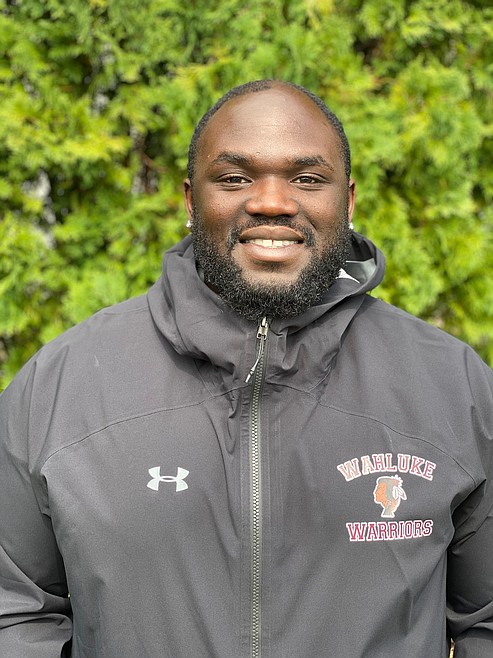 Casey McCarthy/The Sun Tribune Wahluke Athletic Director Jackson Haak focused on ensuring his student athletes are safe as he navigates the hurdles facing the 2020-21 athletic calendar.
by
CASEY MCCARTHY
Staff Writer
|
August 31, 2020 10:35 PM
Wahluke Athletic Director Jackson Haak heads into his second season with the school facing unprecedented challenges and a season unlike any other. His focus remains on making sure the best precautions are taken for student athletes as the 2020-21 calendar comes into shape.
Haak said he was fortunate to come into his first season with a pretty good system already in place.
"My principal, Cody Marlow, who used to be the athletic director, set me up pretty well here," Haak said. "I knew what to do, I could lean on him for any kind of advice in terms of scheduling games, busses, all that other jazz that comes with being athletic director."
A lot of time has been spent this summer meeting with the South Central Athletic Conference, with four teams making the move to 2B and two new ones, Wapato and Toppenish, joining this year. With reduced schedules next season for all sports, he said the league is working on keeping as much of the season "in-house" as possible.
"We don't want to schedule a lot of non-league competition just because, if COVID does come up with a team in our league it will be a lot easier to cancel that game or reschedule it," Haak said.
Rescheduling non-league competitions is enough of a challenge, even without COVID, he said. ADs are working hard to find schedules that fit the new seasons in place from the WIAA for 2020-21, he said. Until the state tournament dates are released, Haak said, it's tough to get things finalized just yet.
One of the main focuses for student athletes returning this year is how they're coping with the changes, he said. He said he's working with the school district to make sure the nurses and health care providers are available for any students that might be struggling with any of the new changes.
"The biggest thing I want to focus on, as far as our kids returning back to sports, is mental health because I know that it's not, I think, taken seriously enough in our society," Haak said. "I just want to make sure our kids are doing OK mentally."
He said he's hoping to have a Zoom meeting with some student athletes soon to see how they're dealing with everything. 

Going this long without sports is something none of us have seen, he said. Haak said he knows everyone is itching to get back together and get going, but said he wants to ensure they're doing everything in a safe manner.
As administrators get varying responses from teachers about how they feel about returning to school, Haak said he feels like he'd have the same response from coaches. He said he's confident, with the right system in place, that coaches and student athletes can help be leaders in wearing masks, and following other guidelines.
"If we can have a good approach, from the administration level to teachers and coaches, to actually practice what we're preaching and telling them, hey, we need to actually do these things so we can get back in the classroom, to have sports again," Haak said. "If we as adults can set a good precedent, it can translate down to the students and the student athletes at the high school."
Haak said his main goal is to play sports this year, but said he won't do so if it means putting their student athletes or coaches at risk. 

"I don't want any business in putting them in harm's way," Haak said. "I know that sports are important, not just to my community, but to the nation as a whole. You can see."
Once the proper precautions have been taken, let them play, he said.
---