Othello baseball duo getting set for next level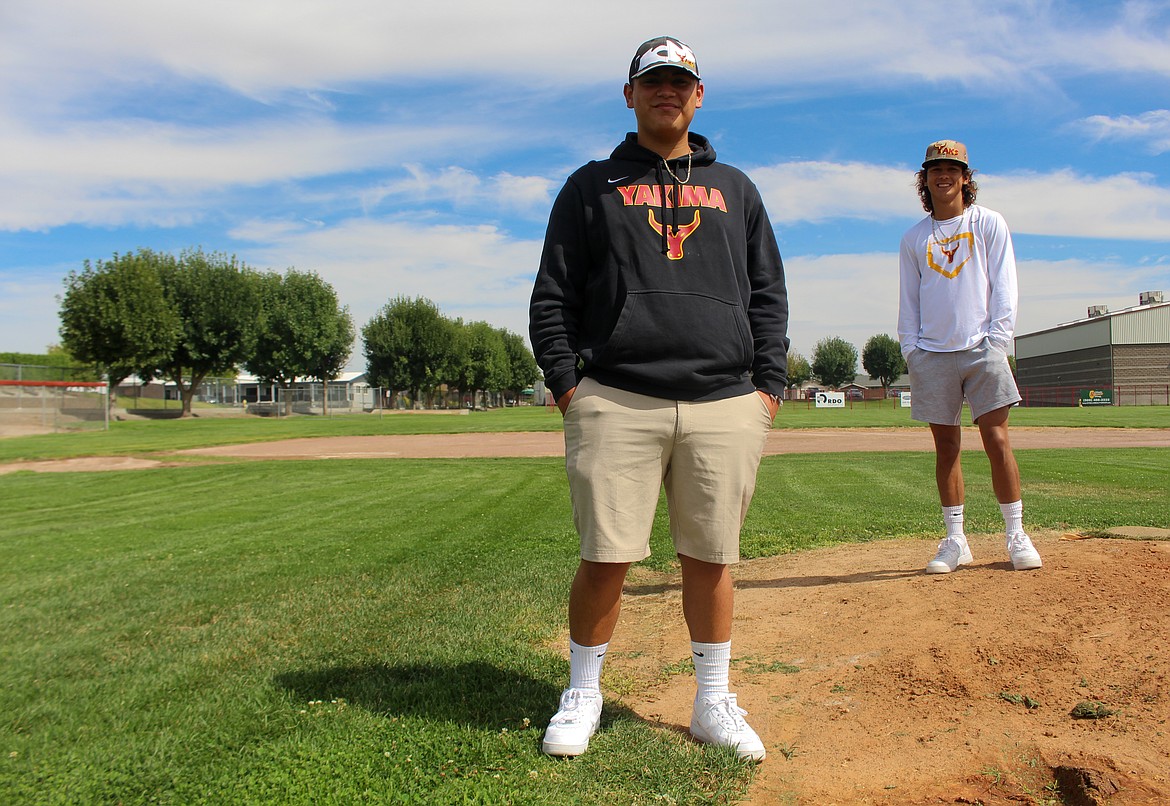 Casey McCarthy/The Sun Tribune Former Othello Huskies Trey Garza and Jaxon Rocha stand on their former high school field on Monday afternoon as they look forward to getting going next season at Yakima Valley College.
by
CASEY MCCARTHY
Staff Writer
|
August 30, 2020 10:15 PM
OTHELLO — After missing out on their final season with the Othello Huskies, Jaxon Rocha and Trey Garza wrapped up their final summer together with MercedesBenz College Prep team recently.
This won't be the last time the two share the field as they get set to begin their collegiate careers together next season at Yakima Valley College. Both players discussed last week how the summer season has helped them prepare for the next level.
Rocha said he wanted to thank the Mercedes-Benz coaches for the opportunity this summer because without it, he would not have had a chance to play this summer. Once the summer season began, Rocha said it felt like any other.
"It felt like a normal summer; it didn't feel like anything was holding us back, like COVID," he said. "It was actually a really fun summer. We got a lot of work in, just really busy considering the circumstances we were under."
Coming off the "COVID offseason," Rocha said he actually felt better coming into the summer than he has in a while. Batting around .317 with 16 hits, he said he felt he performed well given the conditions. After not having the typical spring season to build a rhythm, Rocha said he just felt prepared.
A lot of improvement this summer came on the mental side of the game, Rocha said. The travel and setup of the games this summer really helped prepare for the next level, always having to remain focused, he said.

Rocha said his coaches with Mercedes-Benz really helped him take his mental approach to the next level.
"They really helped me focus throughout all these games, especially when we're going back-to-back nine-inning double-headers, just teaching us to get our minds right for that next level of play," Rocha said. "That's what really helped me this summer."
Garza said it was a bit of a slow start this summer, getting into a rhythm before the end of the season. He said he felt like the high school season might have helped with some of the bumps he found along the road early on.
"I feel like I would have had a better outcome if I had spring ball just because it was hard going straight into summer ball," he said. "It was awesome though. I was able to get a lot of ABs, I was able to see a lot of pitches."
One main reason Garza said he was excited to join the Mercedes-Benz College Prep team this summer was that he likes to ask questions. With Division I players and talented coaches to ask about different things, he said it worked out great.
Garza said he'd watch some of the highly-rated guys on the team this summer, asking them questions about their swings, their approach. He said this summer featured the best baseball he's ever played.
"It's awesome because I'll probably have those guys in contact, so anytime I'm in a slump, anytime I need to ask anything, I can call them up and just ask," Garza said. "What am I doing wrong? What do you think? It's just awesome to have those guys, to have that relationship."
Garza said the weekly travel this summer, often out of state, was a great way to get into the groove of what the college season will look like the next few years.
Garza described his relationship with Rocha as almost a brotherly rivalry, always pushing one another. The pair started playing against one another on the baseball field around the age of 6 or 7 before joining forces in middle school.
"It's funny because I'm with that guy so much, sometimes I get annoyed with him," Garza said. "But, I still love that guy, we still try and help each other out. You've always got someone to try and beat out, someone to always push you to be better."
Both Garza and Rocha said they're excited to get started this fall as they get set to head up to Yakima at the beginning of September.
"The main priority is D-I baseball," Garza said. "I really just want to see pitches up there. If I have the ability to get there, I feel like I'll have the ability to keep going."
"I just want to keep working and, hopefully, my dream is Division I baseball," Rocha said. "Work hard these next two years and hopefully I live that dream."
---