WIAA continues to work on revisions for 2020-21 athletic calendar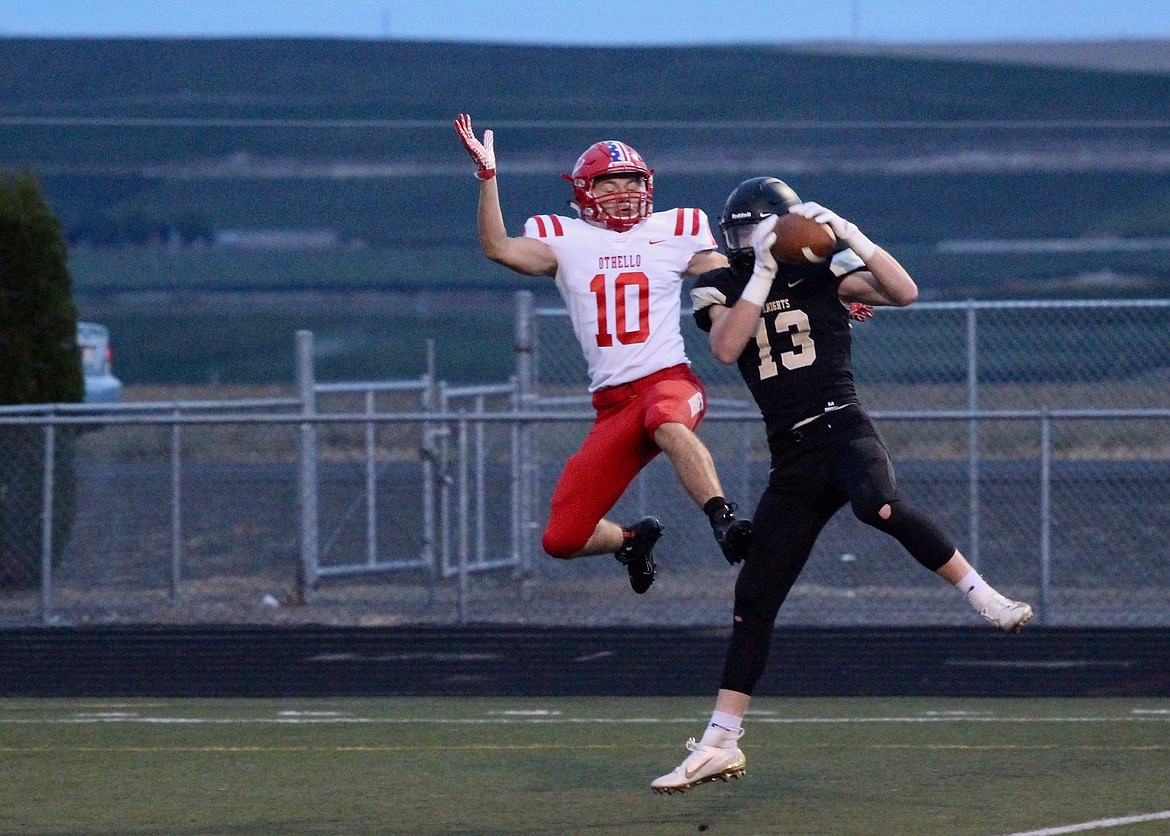 Royal wide receiver Cooper Christensen (13) catches a pass in front of Othello defensive back Liddell Giles last season. The Washington Interscholastic Activities Association continues to work on revisions to the 2020-21 athletic calendar.
Casey McCarthy/The Sun Tribune
by
CASEY MCCARTHY
Staff Writer
|
August 8, 2020 8:00 PM
RENTON — The Washington Interscholastic Activities Association Executive Board continued planning and processes for carrying out the 2020-21 athletic calendar. After already deciding to move to a new four-season schedule next year, the WIAA took further actions to ensure schools and athletes have the best chance of participating next season.
Executive Board director and Lind-Ritzville High School Athletic Director Greg Whitmore said one of the top priorities for the board's meetings last week, and moving forward, is establishing the parameters and benchmarks that programs will need to reach before returning.
Due to uncertainty as to what various school districts were planning for their return in the fall, Whitmore said, it's been a challenge to land on definitive numbers to set. He said the board is still unsure how they'll handle fall sports if districts decide to return to virtual learning.
"In the end, not knowing what schools are going to do with their reopening plan, not knowing what COVID's going to do, we just decided to make all the fall sports alternative sports," Whitmore said.
The decision for fall sports to become alternative sports means that schools have the choice to hold their regular season in the fall or the spring while the WIAA State Championship would fall at the end of Season 3.
Girls swim and dive and competitive cheer seasons was officially moved to Season 3 as well. Practice start dates for football were moved up to Feb. 17 to match the other Season 3 sports, while Season 2 will begin on Dec. 28.
With the revised calendar, schools will be permitted to schedule 70 percent of their typical number of contests for each sport season. The out-of-season period was moved back as well, with the coaching period now set to run from Sept. 28 through Nov. 30.
Whitmore wrapped up his final meeting as WIAA Executive Board director last week, and said navigating the past few months with COVID-19 have been complex at times. In a time frame where the board would typically only meet twice, he said they've met 14 times this year.
While the challenges have been new, Whitmore said, the philosophy of what they're trying to accomplish has remained the same throughout. Challenges, he explained, can be rewarding.
"That's what we do as athletic directors, coaches, and all of that," Whitmore said. "We're used to more certainty, obviously, year to year, and so not being able to provide more answers and guidance drives us crazy, and our staff crazy."
Overcoming the hurdles they've faced will only help him and his staff in the long run, he said. Being forced to come together more than ever before while devising new strategies will only help the WIAA once things return to a sense of normalcy, he added.
As the head football coach at Lind-Ritzville, Whitmore said he's used to getting ramped up for the upcoming season right about this time, devising practice plans and holding coaching meetings. Now, he said, he's just shifting that all towards the end of September.
In his capacity as the school's athletic director, Whitmore said he's preparing for a number of challenges, including trying to form a shortened schedule in an 11-team league.
"It's all really interesting," Whitmore said. "I keep going back to what we've put together right now still provides hope that we're gonna get all these activities and some meaningful events in for these kids. I keep holding out hope, and I keep telling the kids that, and the parents that."
Whitmore said he's hoping that some good luck may come their way soon. Until then, he said, he just wants everyone to do what they can to minimize the spread of the virus and hold out hopes that kids can have their seasons this year.
---