Mercedes-Benz summer squad unbeaten against 2020 City Baseball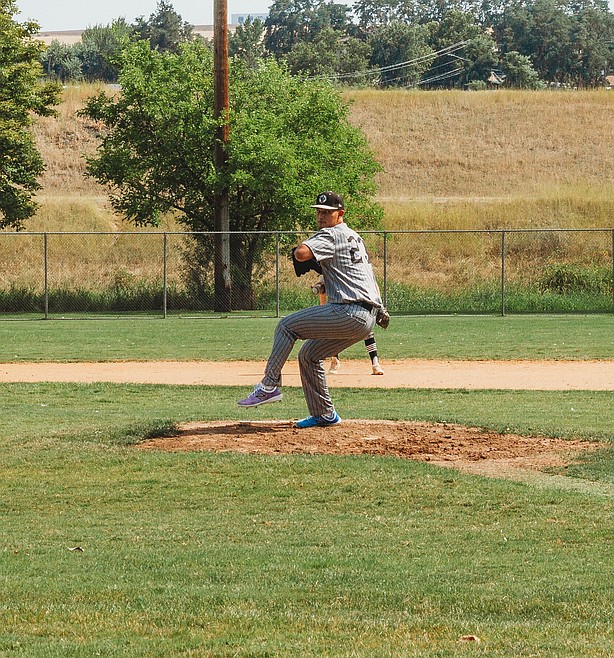 Warden graduate Ryan Arredondo pitches for Mercedes-Benz against 2020 City Baseball.
Courtesy photo
by
CASEY MCCARTHY
Staff Writer
|
August 5, 2020 8:00 PM
MOSES LAKE — Mercedes-Benz summer college prep baseball team wrapped up four games Sunday and Monday, going unbeaten through the stretch.
The Benz squad took a narrow win to open up the day on Sunday, taking down 2020 City Baseball 7-6. Mercedes-Benz took an early 1-0 lead after the first, with 2020 City pouring in five runs over the fourth and fifth innings to retake the lead. Five runs for Benz over the final three innings helped them claw their way back to claim the win.
Ryan Arredondo tossed five innings from the mound, surrendering five runs off two hits with nine strikeouts.
Mercedes-Benz didn't need a comeback in the second matchup on Sunday against 2020 City Baseball, grabbing a comfortable 12-1 win. The Benz squad pulled ahead early with a pair of three-run innings and cemented the win with six runs in the top of the fifth.
Jaxon Rocha finished 2-4 from the plate in the win, adding a run earned. Trey Garza finished 0-2 in the win, but managed a run earned.
Mercedes-Benz jumped ahead early in the first game on Monday against 2020 City Baseball on their way to a 6-2 win. A pair of runs from 2020 City in the top of the seventh kept Benz from pulling off the shutout. Trey Garza finished 1-2 for Benz in the win from the plate.
Wrapping up Monday, Mercedes-Benz picked up a 7-4 win over 2020 City Baseball. Down 3-0 after the first, Benz poured in six runs in the top of the second inning. Garza and Rocha both finished 1-3 in the win, with Rocha adding an RBI as well.
The Mercedes-Benz summer squad sits at 19-8-1 for the summer.
---