Anytime Fitness trainer looks to bring workouts to clients' living rooms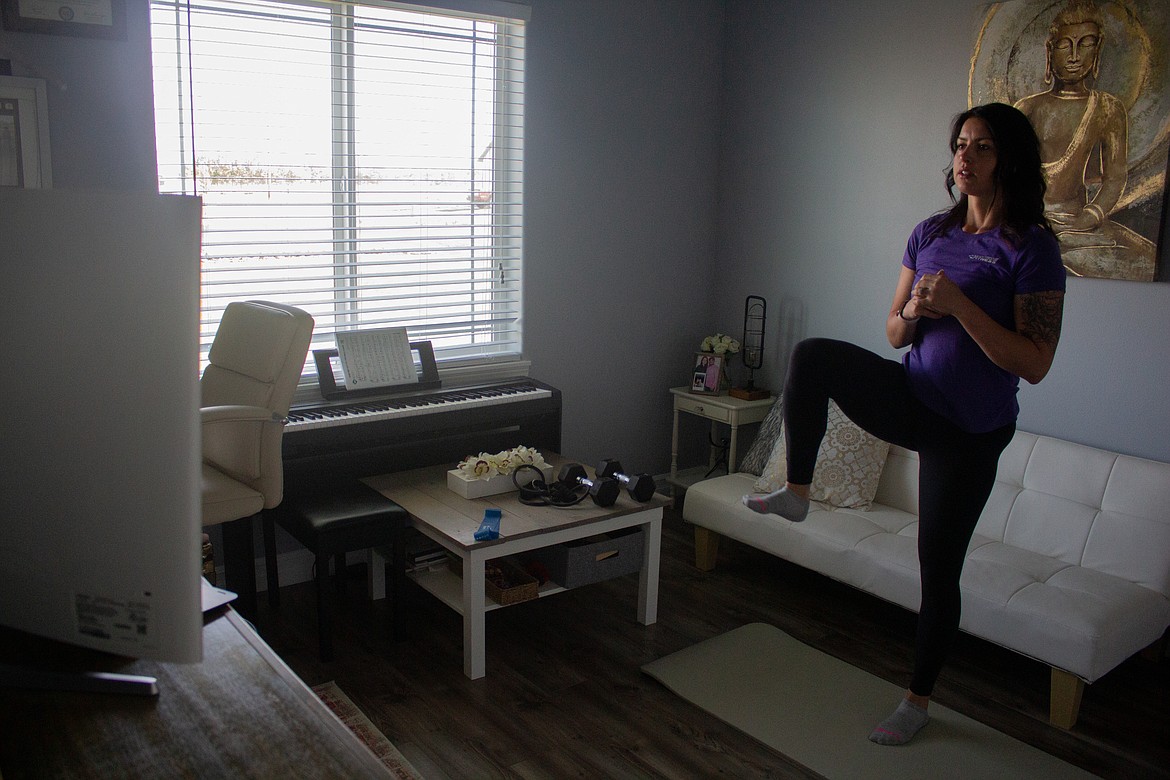 Jitka Garza, a certified personal trainer with Anytime Fitness gym in Othello, teaches a virtual training session from her home in Moses Lake as she adjusts to serving her clients while the gym doors are closed.
Casey McCarthy/Columbia Basin Herald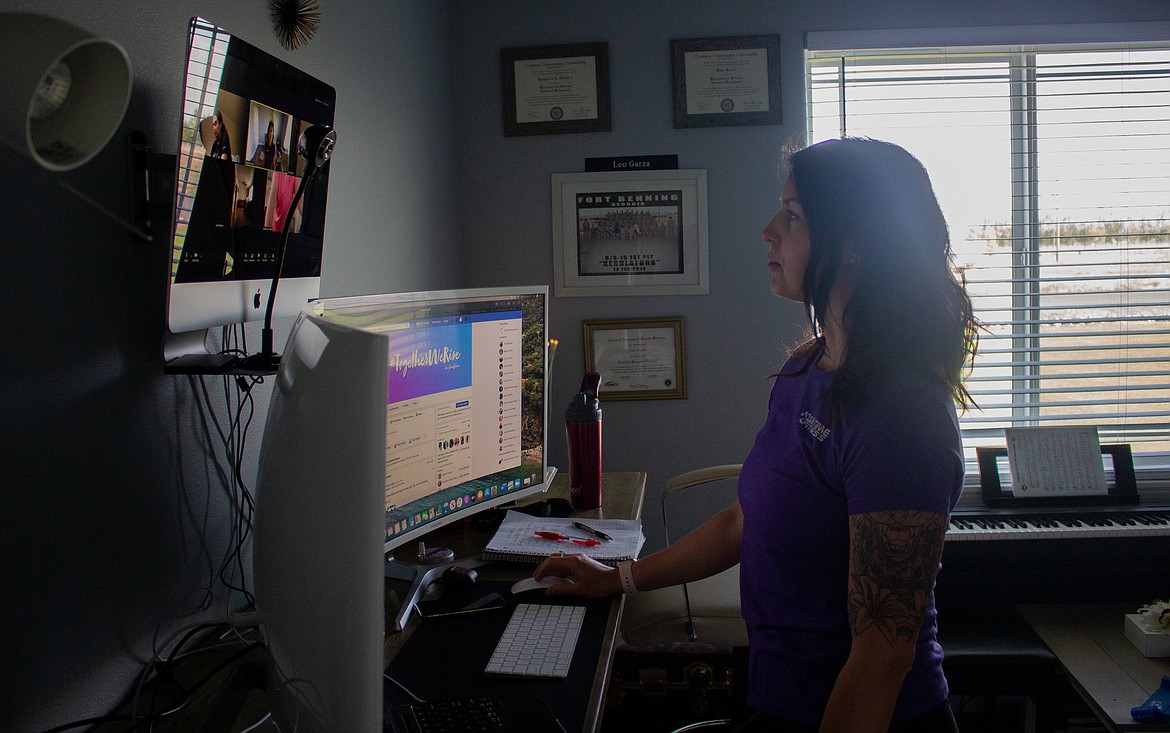 Casey McCarthy/The Sun Tribune Jitka Garza stands in front of her computer setup at home as she connects with her clients before a virtual training session Monday morning at 9 a.m.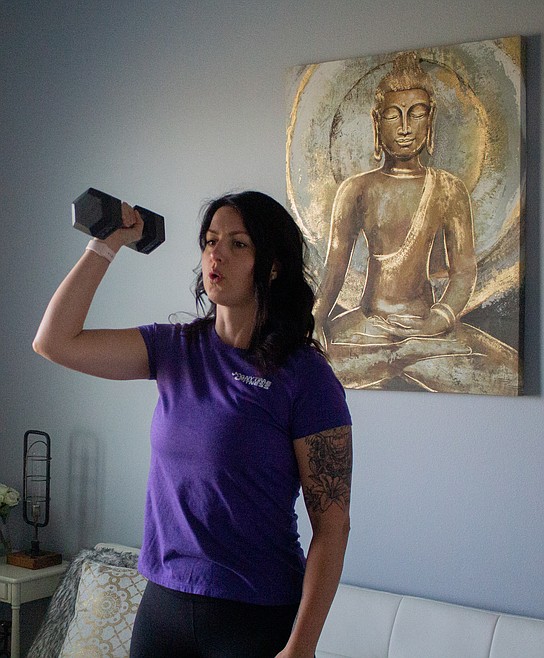 Casey McCarthy/The Sun Tribune Anytime Fitness personal trainer Jitka Garza goes through a workout in her home in Moses Lake during a virtual training session on Monday morning.
Previous
Next
by
CASEY MCCARTHY
Staff Writer
|
April 28, 2020 11:45 PM
MOSES LAKE — Jitka Garza said it was surprising to watch as businesses and stores closed around the state and the nation as concerns over COVID-19 grew in mid-March. Garza said she didn't really believe it at first.
Garza, personal training manager with Anytime Fitness gym in Othello, said once they had to shut down completely, the gym began trying to think of ways to continue to reach clients.
For the last three weeks, Garza has been teaching virtual training classes through the Zoom meeting app at her home in Moses Lake.
"Our clients are loving it," Garza said. "It's not the same, but it is what we have to do in these times. It's better than nothing, it's better to do something than nothing."
For about two weeks, Garza said Anytime Fitness didn't have updates coming out as it tried to plan what to do for clients.
For clients, Garza said the biggest perk of the virtual sessions was just keeping them accountable.
"A lot of us are stuck at home and we can visit the fridge too often, don't move enough, and binge on Netflix," Garza said. "We've had a positive response from all of them. They're appreciative of our help."
Garza said they don't bring in as many clients as they would for in-person classes, with people opting out of the virtual sessions for different reasons. Garza said she hosts two to three virtual sessions a day during the week, filming the workouts from her own home.
Garza said she also took over the optimal life program, which helps elderly clients and people recovering from surgeries or injuries.
Workout sessions focus on incorporating the full body. There are 650 muscles in the body, and Garza said her workout "hits them all."
"We don't specialize in your typical body-building stuff, we are doing this for people looking for better quality of their life," Garza said. "Of course, there's your standard 'I want to lose weight,' but a lot of our clients are just in a spot in their life where they just want to move better, live better."
Garza is a certified personal trainer with the National Academy of Sports Medicine and joined Anytime Fitness in 2014 in a part-time role. She took over as personal training manager in 2017 as the gym looked to expand its personal training program, she said.
The program has seen steady growth, Garza said, until COVID-19 hit. She said they'll have to work to build back up to where they were once the distancing orders have been lifted.
As a 24/7 gym, Garza said access will probably be different once the gym is able to open its doors again. For her personally, Garza said it's been a challenge having to break her own routines as well.
"I'm a person that works off routine," she said. "It completely changed my routine, my personal workout routine. I had to adjust."
Garza said she's fortunate to have a nice computer setup at home with fast internet, making the adjustment to virtual training sessions a little easier.
"I enjoy doing this virtually; it's a good change," Garza added. "And it's going to be a good change when we are able to get back to the gym again."
On a positive note, Garza said the closures have given her more time to spend with family, including her niece and nephew who live right next door.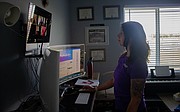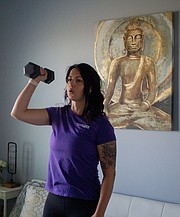 ---